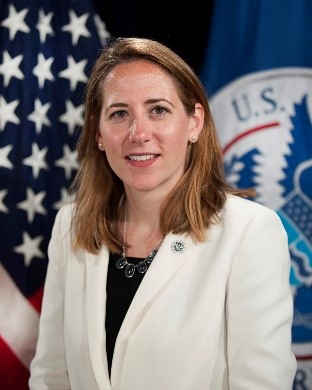 Alaina R. Clark is the Assistant Director for Stakeholder Engagement at the Cybersecurity and Infrastructure Security Agency (CISA). As Assistant Director, she leads CISA's efforts to promote and deliver strategically aligned stakeholder engagements, helping achieve a secure and resilient infrastructure for the American people.
Ms. Clark most recently served as Deputy Chief of CISA's Office of External Affairs where she oversaw the Agency's public messaging, legislative agenda, and branding. She was responsible for digital messaging, including the Agency's social media, web pages and graphic design.
Prior to her work at CISA, Ms. Clark served as Deputy Assistant Secretary for the Department of Homeland Security (DHS) Office of Intergovernmental Affairs (IGA) from 2013 to 2019. In this position, she managed the day-to-day operations of the IGA State, Local, and Tribal teams.
Her accomplishments included consolidating five offices, two advisory councils and two awareness campaigns into the new Office of Partnership and Engagement (OPE) in 2015, reporting to the Secretary of Homeland Security, and taking on additional responsibilities in January 2016 as acting Assistant Secretary for OPE. In this OPE position, Ms. Clark oversaw office operations for IGA, Office for State and Local Law Enforcement, Private Sector Office, Office of Academic Engagement, Committee Management Office, Homeland Security Advisory Council and Homeland Security Academic Advisory Council, as well as the national awareness campaigns "If You See Something, Say Something®" and the Blue Campaign.  
Also, while serving as IGA Deputy Assistant Secretary, Ms. Clark oversaw the Department's participation in the Council of Governors. This bipartisan group of 10 governors was appointed by the President to work with DHS, Department of Defense and the White House. She also led DHS efforts in support of the President's Task Force on Puerto Rico.
Ms. Clark's work with IGA began in 2007. She served in numerous IGA positions, including State Coordinator to Director for State Affairs, from 2007 to 2013. While working for the Department's Counterterrorism Coordinator, Ms. Clark oversaw outreach with state and local officials and religious community leaders regarding ongoing threats and their impact. 
Before joining DHS, Ms. Clark worked for a consulting firm that supported the DHS Science and Technology Directorate and the DHS Office of the Under Secretary for Management.
Ms. Clark holds a bachelor's degree in international studies from Dickinson College in Carlisle, Pennsylvania, and a master's degree in government with a concentration in homeland security from Johns Hopkins University in Baltimore, Maryland.