During a pandemic, Public Safety Answering Points (PSAPs) around the country must be prepared for reduced onsite staff due to social distancing measures and increased sick and family medical leave. To learn more about unique solutions to this complicated challenge, the Cybersecurity and Infrastructure Security Agency (CISA) recently interviewed stakeholders who shared their approach to managing a remote 9-1-1 environment.
HOW THE CITY OF ALEXANDRIA, VIRGINIA HAS PROVIDED INNOVATIVE SOLUATIONS TO ADDRESS PANDEMIC RELATED ISSUES
To address this challenge, the City of Alexandria, VA has implemented the use of remote technology for 9-1-1, 3-1-1, administration and information technology (IT) functions, and new technology applications. Other operational implementations include a nurse triage system, alternative remote locations (house), and moving some employees to a local hotel.
The Cybersecurity and Infrastructure Security Agency (CISA) recently interviewed Jeff Wobbleton, Assistant Director, City of Alexandria, VA Department of Emergency and Customer Communications (DECC) 9-1-1/3-1-1 to discuss these solutions and lessons learned. Highlights of the interview are summarized below.
What are your plans regarding PSAP operations with the unique technology challenges brought on by the need for social distancing?
Jeff Wobbleton: The City of Alexandria has planned for the implementation of several projects to enhance services during a pandemic including distance working, cloud computing, and call handling processes. A couple of the projects include new employee training through distance learning and nurse triage. 
We have also been challenged by management in the City to look at multiple Continuity of Operations (COOP) options and a variety of plans with the mindset of protecting the first responders. DECC wanted to maintain a primary and secondary facility while at the same time stand up alternative remote locations to reduce the risk to the personnel.
During a pandemic, DECC can use Motorola Vesta® equipment for 9-1-1 and non-emergency calls and an Avaya phone system for 3-1-1 calls.* These two separate call handling systems provide a challenge in setting up two different types of call handling processes with the different technology. To address this, we can provide FirstNet wireless devices built by AT&T®, as well as Verizon® MiFi. This will ensure 100% success, not having a single point of failure while allowing personnel to continue working without disruptions of service.
 
Break it down by systems/functions.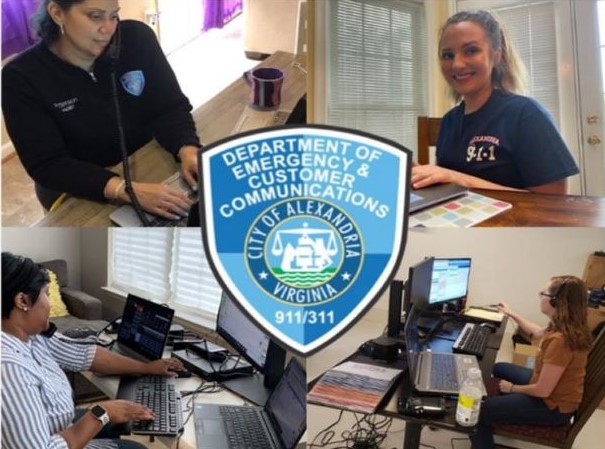 Jeff Wobbleton: First let's discuss the three components of communication for handling 9-1-1 calls that allow a PSAP to operate. The first is the ability to receive and process telephone calls from the public. Second is the ability to capture the information and provide accurate information to the first responders. The last component is how the PSAP communicates with the first responders.
For the first part we can use the Motorola Vesta® Command Post to remotely answer the 9-1-1 and non-emergency telephone calls. The second part is to use a laptop to remote into the local desktop to access the Computer Aided Dispatch (CAD) to capture the information. Communication can be with the Project 25 (P-25) radio system with consolettes and portables (remote locations).
DECC also manages the City of Alexandria 3-1-1 for city services. 3-1-1 is a vital component and provides a critical link for citizens in obtaining information. 3-1-1 personnel can be housed within the operations center, but quickly transition to remote answering during the beginning of a pandemic. The current phone system may have some limitations; however, there are alternative measures to ensure that 3-1-1 call takers can answer calls remotely. 3-1-1 uses Sonim phones to receive calls in conjunction with laptops that are issued to process information into Customer Relationship Management.
Administration and IT support functions can be shifted to all teleworking. Microsoft Teams® is the platform we would use for the coordination of services, stand up meetings, conference calls, and training. 
What systems do you use for dispatch?
Jeff Wobbleton: The Motorola® P-25 radio consolette and portable radios are our primary communication tools. FirstNet phones built by AT&T® can be utilized to work with radio applications as a backup option for communication. FirstNet phones also offer the ability to provide dual capabilities of priority connectivity and functionality of useful apps. We have found that the radio has limitations with remote locations, so once a remote site is deployed outside of the coverage area, other options to communicate must be incorporated. DECC is investigating the use of the Inter-RF Subsystem Interface Gateway.
You mentioned using a hotel as a part of your backup plan -- can you elaborate?
Jeff Wobbleton: The City has an agreement with a local hotel, and we have used the opportunity to assign 9-1-1 personnel to work from the hotel. By deploying a third 9-1-1 operation and further isolating additional staff, we can minimize risk from other PSAP personnel and the public. Calls can be dispatched from the hotel using portable radios with headsets, desktop remote for CAD, and call handling. Through this agreement, the hotel is able to provide lodging and food for the duration of an employee's stay, making the hotel isolation team an alternative dispatching location. It can be used in conjunction with other City communication centers, resulting in DECC benefiting and having an operational redundancy built into its COOP plan.  
How can nurse triage be used during a pandemic?
Jeff Wobbleton: During a pandemic, the protection of first responders is a concern. So, DECC has worked with the medical director and fire department to develop a nurse triage line. When a low priority sick call, or basic life support call, comes into our 9-1-1 call center, if appropriate, the caller would be transferred to a nurse. The nurse will provide additional screening and will ask questions regarding possible exposure. The nurse would then determine the best response from three recommendations set by the Fire Department's response: 1) Change call to advanced life support, high priority response 2) Change to a low priority response (paramedic response) 3) Stay at home. The stay at home option offers patients the ability to follow up with a telehealth nurse or the paramedic within 24 hours. With this function in place, PSAPs can integrate telehealth from the initial telephone 9-1-1 call. These additional steps to screen information will help the first responders with information that may protect them when responding to an incident.
Any additional thoughts you would like to share?
Data security is of high importance because of all the outside connections to the servers.
The question all 9-1-1 Centers need to ask is, "How can we integrate technology quicker, faster, and provide better customer service?" Ideas include "ASAP to PSAP" for alarm delivery, automated dispatch for fire alarms, and electronic transfer of towed vehicle information, to name a few.
We must consider thinking "outside the box" when planning for a pandemic. Examples include looking at non-emergency call diversion by use of an Interactive Voice Response (IVR), or cloud-based CAD systems. 
CISA pandemic guidance for 9-1-1 centers can be found at cisa.gov
ABOUT JEFF WOBBLETON
Jeff brings a diverse public safety background in communications, technology, policy, and performance management from his three decades of experience working with agencies at the state and federal level. He is currently at the City of Alexandria Department of Emergency and Customer Communication Center.
Interview Series
Upcoming interviews addressing a remote 9-1-1 center environment include the use of Emergency Services Internet Protocol Networks (ESInets) and an automated call distributor (ACD) model in the State of Indiana, and the development of standard technology toolkits for remote emergency communication center (ECC) workers in Northeast Missouri. Continue to follow the SAFECOM Blog for more stakeholder interviews.