Author: The Cybersecurity and Infrastructure Security Agency (CISA) in partnership with SAFECOM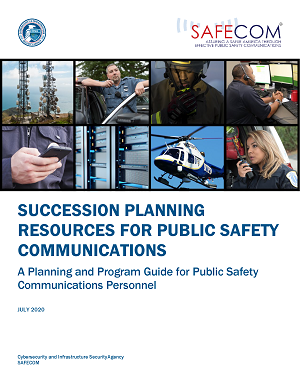 Public Safety organizations frequently find themselves without qualified communications experts due to personnel retirements, relocations, and promotions. To ensure public safety organizations maintain vital communications skillsets and operable and interoperable communications systems, it is imperative for organizations to identify personnel to liaison between operational personnel (e.g. radio technicians, end users/field personnel) and governance personnel (e.g. managers, IT departments, and financial officers) as well as plan for the transition of traditional public safety personnel into communications roles.
To assist public safety organizations with this endeavor, SAFECOM has developed the Succession Planning Resources for Public Safety Communications. This document guides public safety organizations by:
Recommending the establishment of the public safety communications coordinator (PSCC) role. The PSCC is responsible for managing communications between operational and management personnel
 
Outlining procedures for passing knowledge of communications assets throughout public safety organizations
 
Providing document templates for managing communications equipment and external points of contact at neighboring agencies and vendors
SAFECOM and CISA believe the recommendations outlined in this document will support the public safety community in maintaining institutional knowledge on operable and interoperable communications requirements.
View this document at cisa.gov/safecom/planning.