Author: David Nolan, CISA, Advanced Interoperable Technology Branch Lead
Use of Resources Can Help Protect Public Safety Agency Networks from Cyber Incidents
The Cybersecurity and Infrastructure Security Agency (CISA) is charged with ensuring that the Nation's public safety and national security and emergency preparedness communities can seamlessly and securely communicate during steady state and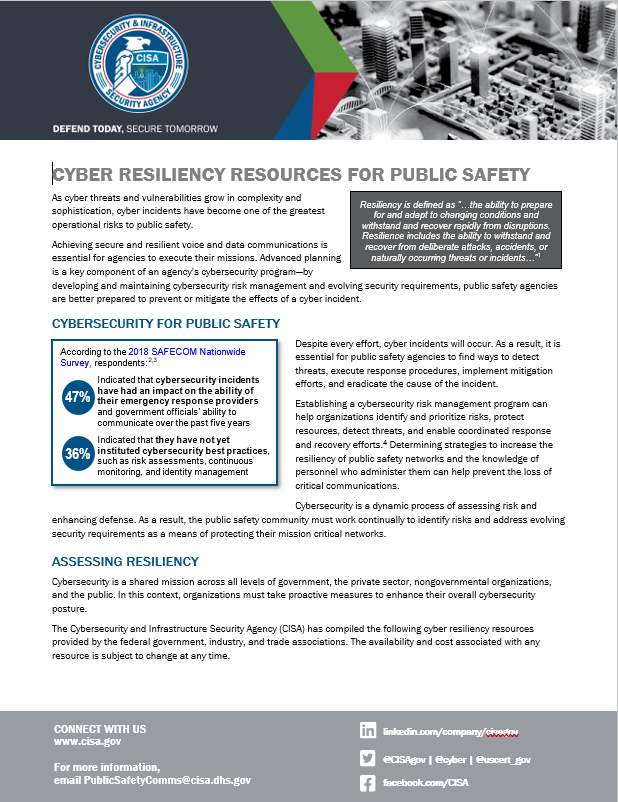 emergency operations to keep America safe, secure, and resilient. Cyber incidents pose a significant risk to the voice and data communications capabilities of public safety agencies. A cyber incident has the potential to significantly disrupt an agency's ability to execute life-saving missions. However, results from the 2018 SAFECOM Nationwide Survey indicate that 36 percent of respondents have not instituted cybersecurity best practices, such as risk assessments, continuous monitoring, and identity management.
In response, CISA compiled the Cyber Resiliency Resources for Public Safety Fact Sheet highlighting resources provided by the Federal Government, industry, and trade associations. The factsheet is intended to assist agencies in determining their current network cybersecurity and resiliency capabilities and identify ways to improve their ability to defend against cyber incidents.
For more information and additional guidance regarding cyber resiliency, visit https://www.cisa.gov/safecom/technology.