About The Speakers
Toni Benson, Cybersecurity and Infrastructure Security Agency (CISA) 
Toni Benson is the Deputy Associate Director within the Cyber Defense Education and Training (CDET) sub-division at the Cybersecurity and Infrastructure Security Agency (CISA) supporting the Department of Homeland Security (DHS). Her roles within the sub-division are to provide strategic vision around training and education to assist in combating the cybersecurity workforce shortage. In previous DHS roles, Ms. Benson led a team responsible for researching cyber developments from both private/public sector and government departments and agencies. She supported the information-sharing mission of CISA by preparing, enriching, and distributing indicators comprised from recent activities related to cyber threat actors. These efforts are the backbone to notable programs such as Automated Indicator Sharing (AIS), Cyber Information Sharing and Collaboration Program (CISCP) and Enhanced Cybersecurity Sharing (ECS).
Prior to joining the DHS in 2015, Ms. Benson spent most of her career serving in the United States Air Force, where she served as a Communications Officer. She also worked with other U.S. government agencies and private sector companies as a contractor, in support of various cyber initiatives. Ms. Benson is a member of the ISC2 community as a Certified Information Systems Security Professional. She received her undergraduate degree in Management Information Systems from Delaware State University and her Masters of Science degree in Information Assurance from the University of Maryland Global Campus.
Kendra Parlock, NPower Maryland
Kendra Parlock was appointed in November 2019 as the Executive Director of NPower Maryland continuing her commitment to a career in public service after a corporate career helping businesses rebuild and expand.
Prior to NPower, Kendra served as the Director of the Mayor's Office of Sustainable Solutions for the City of Baltimore where she was charged with rebuilding and expanding Baltimore's CitiStat program for issue driven performance management, data analysis and cross agency collaboration for service delivery, public safety and neighborhood revitalization. She served in this role for two years. Prior to this role over a span of two decades, Kendra worked as a global segment manager at Cabot Corporation, led innovation projects in W.R. Grace's New Business Development Incubator and held various technical, sales and marketing roles at DuPont.
Kendra studied biology and chemistry at the University of Florida and Wright State University. She received her MBA in Integrative Management from Michigan State University. 
Kendra is highly engaged with several community and charity organizations. She is a member of the inaugural United Way of Central Maryland Philanthropic Women's Leadership Development Program, a longtime executive board member of the Bolton Hill Community Association and a business mentor with Innovation Works, an organization working to improve Baltimore's neighborhood economies.  Most recently Kendra is dedicating her time mobilizing community, funder and nonprofit support for the Baltimore Digital Equity Coalition.
Kendra is looking forward to using her skills and expertise to propel NPower into its next chapter of changing the trajectory for underserved young adults and veterans. "Focusing on outcomes and building collaboration for comprehensive solutions is key to success in Baltimore. I will work to expand NPower's relationships with other nonprofits, foundations, business and government for sustainable growth. I also plan to build on the lessons learned in my own STEM career journey to provide support to NPower students and alumni."
Jessica Gulick, Cyberjutsu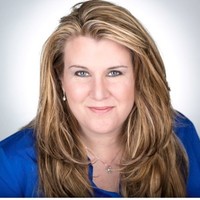 Jessica Gulick is CEO and founder of Katzcy, a WOSB committed to helping IT and cybersecurity firms grow while also providing epic cybersecurity games to drive a thriving community of diverse cyber athletes. Jessica is passionate about infusing the cyber workforce with diversity and sees cyber as a sport that helps uplift the community through fun competition. She has a CISSP and PMP with 25+ years of experience in cybersecurity strategy, cyber policy, business metrics, global marketing, and security program management. She has launched multiple award-winning global cyber marketing campaigns for services, products, and cyber competitions. She has authored several strategic plans, NIST Special Publications, and thought leadership papers. At SAIC, she led multi-million dollar security consulting teams. For CSG Invotas and while at Katzcy, she has directed global cybersecurity go-to-market strategies resulting in high growth, Cool Vendor status, and acquisition. As an active member of the community, she has co-chaired the NIST NICE Cyber Competitions Committee and was president of the Virginia Tech MBA alumni board. She is currently the president of the Women's Society of Cyberjutsu board where she spearheads various programs and corporate outreach to advance girls and women into technical careers in cyber. She received an MBA from Virginia Tech and a bachelor's degree from the University of Maryland University College.