Want more? Watch Day Four.
About The Speakers
Moderator: Suzanne Spaulding, Center for Strategic and International Studies (CSIS)
Suzanne Spaulding is senior adviser for homeland security and director of the Defending Democratic Institutions project at the Center for Strategic and International Studies (CSIS). She also serves as a member of the Cyberspace Solarium Commission.
Prior to joining CSIS, Ms. Spaulding was Undersecretary at the Department of Homeland Security, leading the National Protection and Programs Directorate (NPPD), which has since been renamed to the Cybersecurity and Infrastructure Security Agency (CISA).
Ms. Spaulding has served in Republican and Democratic administrations, including as Assistant General Counsel at the Central Intelligence Agency, and on both sides of the aisle in Congress. She was general counsel for the Senate Select Committee on Intelligence and minority staff director for the House of Representatives Permanent Select Committee on Intelligence. Additionally, Ms. Spaulding is the former chair of the American Bar Association's Standing Committee on Law and National Security, and co-founder of the ABA's Cybersecurity Legal Force.
Currently, Ms. Spaulding is on the Board of Directors for Defending Digital Campaigns and for Girl Security, and Advisory Boards for Nozomi Networks, Splunk, and Harvard University's Defending Digital Democracy project. She is also a member of the Homeland Security Experts Group (HSEG).
Debora Plunkett, Defending Digital Campaigns
Debora Plunkett is a cybersecurity leader with over 30 years of experience. A former Director of Information Assurance at the National Security Agency, she is Principal of Plunkett Associates LLC, a consulting business. She is also a Senior Fellow at Harvard's Belfer Center and a Professor of Cybersecurity at the University of Maryland. Ms. Plunkett serves on the corporate boards of JCPenney, CACI International and Nationwide Insurance. She is a founding member and chairman of the board of Defending Digital Campaigns, a non-profit entity focused on providing free or low-cost cybersecurity services to federal election campaigns. Ms. Plunkett served on the National Security Council at the White House in the Administrations of Presidents Clinton and George W. Bush where she developed national cybersecurity policies and programs. Debora earned an undergraduate degree from Towson University, an MBA from Johns Hopkins University, and a Master of Science in National Security Strategy from the National War College.
Michael Kaiser, Defending Digital Campaigns
As the President & CEO of Defending Digital Campaigns (DDC), Mr. Kaiser leads the effort to bring free and low-cost cybersecurity products and services to federal campaigns and national parties and committees.  DDC has partnered with more than 30 companies and helped more than 185 campaigns improve their cybersecurity so far this cycle. Mr. Kaiser has worked in cybersecurity and privacy for over 12 years and was previously the Executive Director of the National Cyber Security Alliance (NCSA) from 2008-2018 where he built one of the leading cybersecurity public private partnerships working with industry leaders, government officials, including the White House, and civil society. He substantially expanded NCSA's signature program National Cyber Security Awareness Month, and created and grew Data Privacy Day, Cyber Secure My Business, and the STOP. THINK. CONNECT. campaign.
Ginny Badanes, Microsoft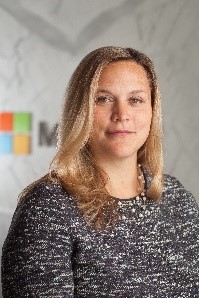 Ginny is the Director of Strategic Projects for Microsoft's Defending Democracy Program. Her work focuses on countering the growing threat of nation state attacks against vulnerable democratic institutions globally. This team's efforts include increasing the security of campaigns and elections, and addressing the issue of disinformation as it impacts these organizations and processes.
Ginny has over 15 years of experience at the intersection of politics and technology.  She has been recognized as one of Campaigns & Elections "Rising Stars" and also received the American Association of Political Consultant's "40 Under 40" award.
Andrea Holtermann, Google
Andrea leads state and local outreach for Google's Civics Outreach team in Washington, DC. As a part of the Civics team, she works with politicians and campaigns to help them establish their presence online with authoritative information and protect their information across Google platforms. Prior to joining Google, Andrea worked for several campaigns and nonprofits, most recently managing a congressional campaign for the 2018 midterm cycle.