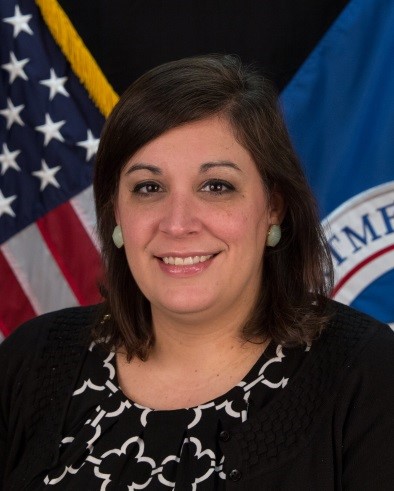 Emily Early serves as the Chief of Staff of Staff for the Department of Homeland Security (DHS) Cybersecurity and Infrastructure Security Agency (CISA). In this role, she manages the day-to-day operations of the Agency to achieve its mission to protect and enhance the resilience of the nation's cyber and critical infrastructure. Early works closely with the operational leadership and mission support organizations to drive policy and operations across CISA in support of the Director's priorities.
Early joined the DHS National Protection and Programs Directorate (NPPD) in February 2011 and served in a variety of roles throughout her tenure. Prior to becoming Chief of Staff, Early served as the Acting Director for NPPD's Office of Strategy, Policy, and Plans, where she was principal advisor to the Under Secretary on cyber and infrastructure policy, with the responsibility for overseeing strategic planning and policy implementation  for NPPD. She also served as the Deputy Chief of Staff for the Office of Cyber and Infrastructure Analysis, Legislative Affairs Advisor for the Office of Infrastructure Protection, and lead for the Office of Emergency Communications External Affairs program. 
Prior to joining federal civil service, Early worked for the Lafayette Group, where she provided program management for initiatives including public safety communications at DHS and campus security for the Major Cities Chiefs Association. Before joining Lafayette Group, Early worked at the National Sheriffs' Association where she ran a nationwide training program for law enforcement.
Early earned a B.A. from Wittenberg University and her law degree from Case Western Reserve University. She is licensed to practice law in Ohio and the District of Columbia.