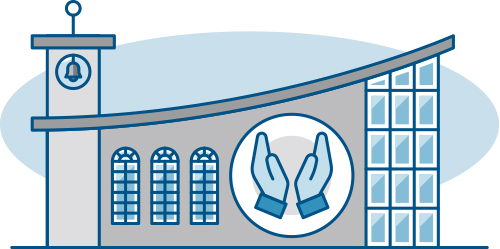 Across the United States, Americans congregate in faith-based venues to worship, learn, play, and bond as a community. CISA is committed to supporting efforts to maintain safe and secure houses of worship and related facilities while sustaining an open and welcoming environment. This resource page is designed to guide houses of worship through building improved security and safety protocols for their specific organization's congregants and facilities. These tools help houses of worship identify and report suspicious behavior; build positive community relationships; develop partnerships with law enforcement; and implement emergency operations plans and screening procedures while enhancing security awareness. By utilizing these resources, houses of worship can easily develop a continuing security improvement cycle.
Identify Suspicious Behavior

   Power of Hello Slick-Sheet and Placemat
   These products provide stakeholders with information to assist in identifying and effectively responding to suspicious behavior.
Link: CISA Power of Hello Slick-sheet and CISA Power of Hello Placemat
Protecting Houses of Worship
   Faith-Based Organizations – Houses of Worship Resources Website
   This website provides guidance and resources to inform security-based decisions for faith-based organizations and houses of worship. Readers will find guidance on how to improve the safety and security of their facilities and information on a wide range of potential threats and vulnerabilities.
Link: cisa.gov/faith-based-organizations-houses-worship
   Houses of Worship Security Self-Assessment Interactive Tool
   This self-assessment tool guides houses of worship personnel through a series of questions to help identify, understand, and mitigate potential vulnerabilities. The results of the assessment can be used to inform decision-making, security planning, and grant applications.
Link: cisa.gov/houses-of-worship
   Mitigating Attacks on Houses of Worship Security Guide and Fact Sheet
   This guide and corresponding fact sheet present new analysis drawn from a series of incidents at houses of worship over the past decade and offer a range of mitigation solutions designed to achieve a robust and layered approach to security.
Link: Mitigating Attacks on Houses of Worship Security Guide; Mitigating Attacks on Houses of Worship Security Guide Fact Sheet
   Power of Hello Guide for Houses of Worship
   This guide, which follows the series of Employee Vigilance Through the Power of Hello resources, is geared specifically to the faith-based community and assists in identifying and properly responding to suspicious behavior. The guide also helps houses of worship identify questions to ask when navigating a potential threat, know when and how to obtain help, and understand incident response best practices.
Link: Power of Hello Guide for Houses of Worship

   Protecting Houses of Worship Video
   This video examines the challenges associated with protecting houses of worship and demonstrates how law enforcement, houses of worship, and other partners can work together to report suspicious behavior and raise security awareness, while forging positive relationships within the community.
Link: youtube.com/watch?v=iPhOH0C7cio
Additional DHS Resources:

   DHS Center for Faith and Opportunity Initiatives
   This website lists available resources for houses of worship, including security assessments, tabletop exercises, and other training.
Link: fema.gov/about/offices/faith
   Safety for Faith-Based Events and Houses of Worship Nationwide Suspicious Activity Reporting Initiative Awareness Flyer
   This flyer provides an overview of the Nationwide Suspicious Activity Reporting (SAR) Initiative (NSI) and the DHS "If You See Something, Say Something®" public awareness campaign. In addition, this flyer provides links to resources for security personnel, law enforcement, and first responders; nonprofit and private sector resources; and additional resources for developing emergency operations plans, security practices, and safety guidelines for houses of worship and faith-based events.
Link: dhs.gov/publication/safety-faith-based-events-and-houses-worship-nsi-awareness-flyer