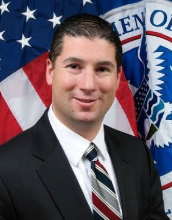 Steven Harris is the Acting Assistant Director for Infrastructure Security within the Department of Homeland Security's Cybersecurity and Infrastructure Security Agency (CISA). In this role, he helps lead CISA's efforts to secure the nation's critical infrastructure in coordination with government and the private sector. Key areas of focus include vulnerability and risk assessments; securing soft targets and crowded places; training and exercises; and securing high-risk chemical facilities.  
Immediately prior to taking his current position, he was the Deputy Director of National Protection and Programs Directorate's (NPPD) Office of Cyber and Infrastructure Analysis. In that role, he oversaw integrated analysis of cyber and physical risks to the Nation's critical infrastructure.  He has also served as NPPD's Deputy Chief of Staff, working closely with the Under Secretary, Chief of Staff and other senior leadership to help manage the day-to-day operations of the Directorate. He has also been the Director of NPPD's Office of Professional Development & Training.
Before joining DHS, Mr. Harris worked in the Department of Defense in various roles. He has served as Deputy for Policy in the Strategy Directorate for the Defense Security Cooperation Agency (DSCA) in the Office of the Secretary of Defense, and at both Naval Air Systems Command and the Navy International Programs Office. He has also served as the Chief of the Leader Development Programs Branch at the Defense Civilian Personnel Advisory Service in the Office of the Under Secretary of Defense for Personnel and Readiness.  
Mr. Harris is a member of the Senior Executive Service (SES). He holds a Master of Science degree in Management/Contract Management from the Florida Institute of Technology and a Bachelor of Arts degree from Saint Mary's College of Maryland. In his ongoing quest for knowledge, he has also pursued studies at the Government Affairs Institute at Georgetown University, the Center for International Studies at the Massachusetts Institute of Technology, and the Federal Executive Institute's Leadership for a Democratic Society