The Cybersecurity and Infrastructure Security Agency (CISA) hosts the Industrial Control Systems Joint Working Group (ICSJWG) to facilitate information sharing and reduce the risk to the nation's industrial control systems.
The ICSJWG provides a vehicle for communicating and partnering across all Critical Infrastructure (CI) Sectors between federal agencies and departments, as well as private asset owners/operators of industrial control systems. The goal of the ICSJWG is to continue and enhance the collaborative efforts of the industrial control systems stakeholder community in securing CI by accelerating the design, development, and deployment of secure industrial control systems.
For additional information on this working group, see the ICSJWG Fact Sheet.
---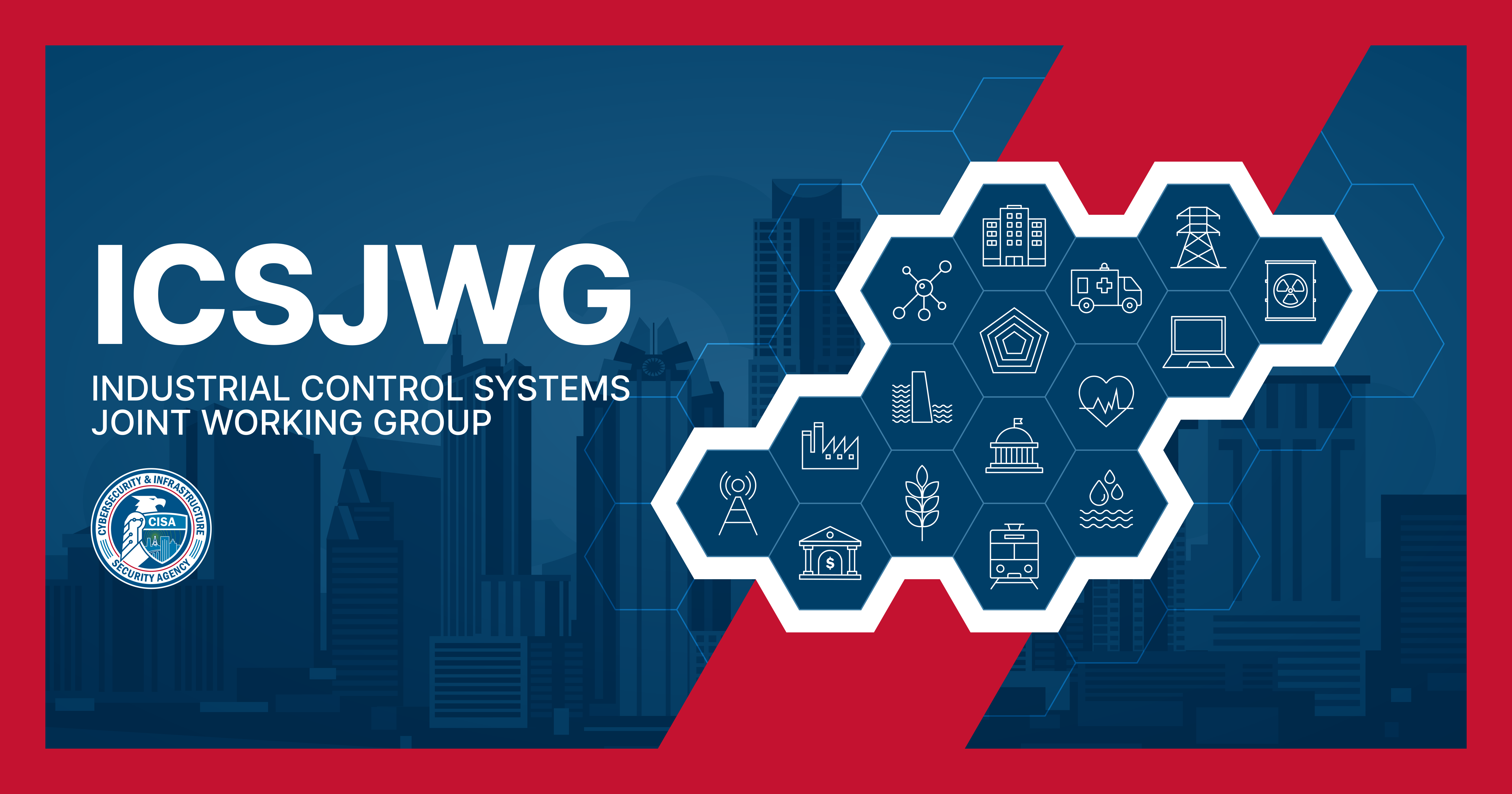 The ICSJWG 2022 Fall Virtual Meeting was a success!
ICSJWG meetings provide a forum for critical infrastructure stakeholders to gather and exchange ideas about critical issues in industrial control systems (ICS) cybersecurity. The 2022 Fall Virtual Meeting included two full days of presentations, a Capture the Flag activity, technical workshops, and the CISA ICS Training overview (Cyber-CHAMP©). ICSJWG meetings are open to all who are interested and are free for attendees. To review the on-demand videos from this meeting, please visit the Engagement Hub.
Click on "Meetings and Webinars" below for more information on the ICSJWG 2022 Fall Virtual Meeting.
_____________________________________________________________________________
 
Our next Quarterly Webinar is scheduled for November 16, 2022. 
ICSJGW invites you to a webinar on Wednesday, November 16, 2022 from 1:00-2:00pm ET. We are looking forward to a presentation provided by Annie Fixler from the Foundation for Defense of Democracies (FDD) and Samuel Chanoski from Idaho National Laboratory (INL). The presentation will discuss Public-Private Collaboration to Enhance Operational Technology Cyber Defense.
Public-private collaboration is the key to improving the U.S. national cyber resilience. Both the U.S. government and the private sector recognize the unique challenges related to securing the operational technology that directly monitors industrial equipment, assets, processes, and events. Attend this session to learn about a program created by the Department of Energy's Office of Cybersecurity, Energy Security, and Emergency Response to enhance bi-directional conversations and strengthen relationships between and among cyber experts in the U.S. government and OT operational and security managers across the energy sector. The session will focus on the lessons learned that can be applied across all critical infrastructure sectors and all sector risk management agencies to enhance cyber defense. 
All are welcome to participate! Click here to register for the ICSJWG November Webinar.
Click on the "Meetings and Webinars" link below for additional information on the ICSJWG Quarterly Webinars. 
Meetings and Webinars
---
ICSJWG Quarterly Newsletters
If you would like to submit an article or whitepaper of general interest pertaining to control systems security, please send for consideration to ICSJWG.Communications@cisa.dhs.gov in Word or PDF format. Submitted articles will be reviewed and approved by ICSJWG prior to publishing. Please note: marketing or sales presentations aimed at gaining the audience's interest in services, capabilities, or products cannot be approved.
Article submissions for the December 2022 edition are currently being accepted for review until November 9, 2022.
Copies of the most current Newsletter and Newsletters from the previous three quarters are found below. Please contact us at ICSJWG.Communications@cisa.dhs.gov if you would like to obtain editions prior to those. 
2009 - September 2021 not available
---
ICSJWG Products and Materials
---
Membership in the ICSJWG
By adding you to our membership rolls, you will receive all outgoing messages to the ICSJWG community, including newsletters, meeting notifications, training information, calls for comments, and other announcements. Volunteer participation, by contributing ideas, sharing information, or working toward solutions for CI security, is encouraged. To get involved supporting a working activity which addresses critical infrastructure security, please let us know your ideas and the ICJSWG Steering Team (IST) and Program Management Office (PMO) will consider them. To get involved with the ICSJWG in general, please contact us at
ICSJWG.Communications@cisa.dhs.gov
.