The Industrial Control Systems Joint Working Group (ICSJWG) provides a vehicle for communicating and partnering across all Critical Infrastructure (CI) Sectors between federal agencies and departments, as well as private asset owners/operators of industrial control systems. 
Below, we invite you to find information on future and past ICSJWG meetings and webinars.  Please contact us at ICSJWG.Communications@cisa.dhs.gov with any questions.
---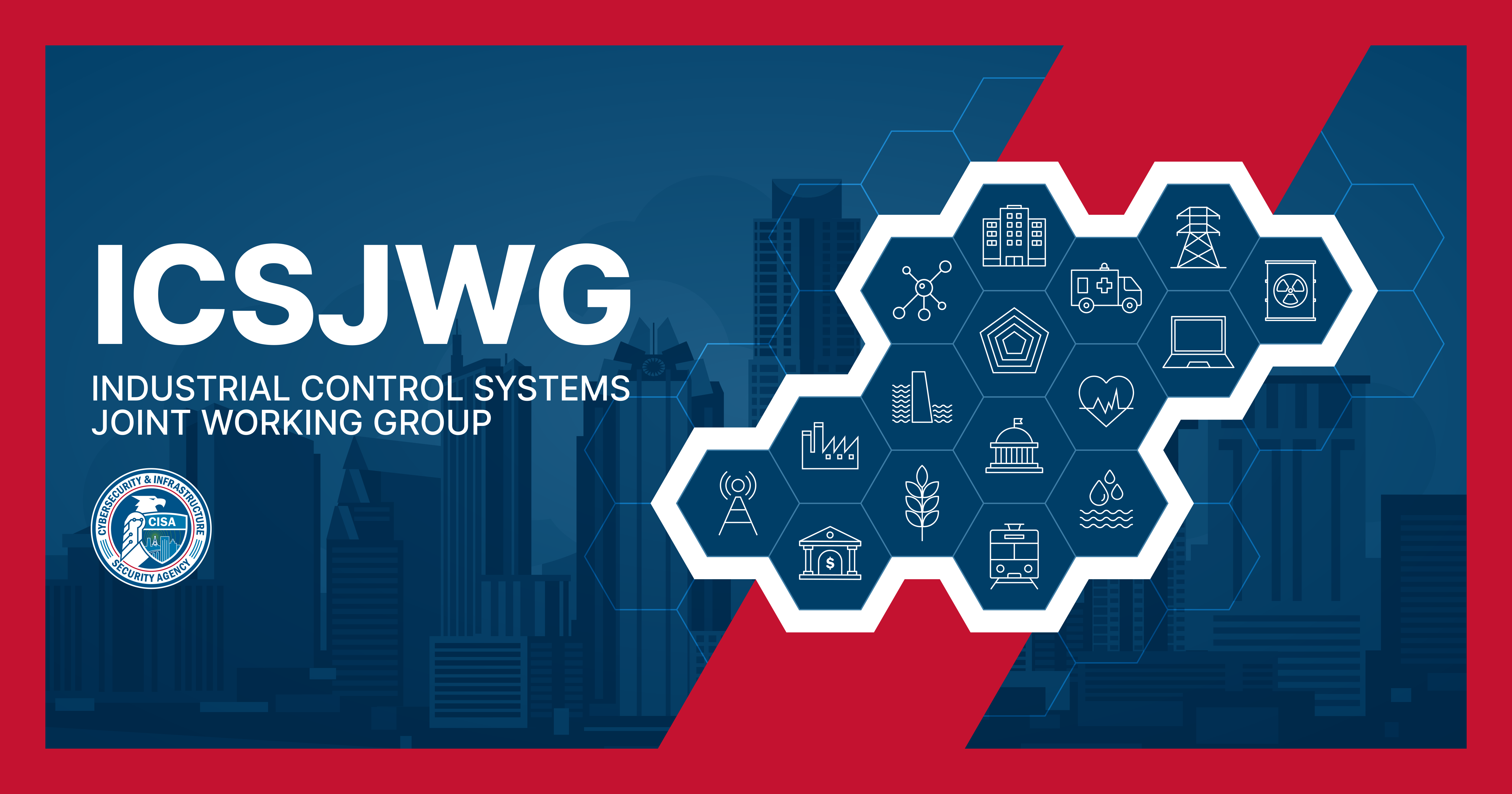 Call for Abstracts and Vendor Expo!
The Call for Abstracts for the ICSJWG 2023 Spring Meeting is now open! The Spring Meeting will take place on May 9-11 in Salt Lake City, Utah. Please keep in mind that no pre-recorded presentations will be accepted as all submissions are required to be presented live and in-person in Salt Lake City, Utah. The deadline to submit an abstract for review is March 10, 2023. 
This event also will feature a Vendor Expo where we encourage the participation of our stakeholders. Additional details and procedures will be shared directly with those who are interested.
If you are interested in submitting an abstract or hosting a vendor booth, please fill out this Interest Form.
Registration Information will be announced soon!
___________________________________________________________________________________
---
ICSJWG Meetings are open to all who are interested and are free for all attendees. The meeting welcomes all Industrial Control Systems (ICS) community members from around the globe, both new to the concepts and subject matter experts with years of experience. We look forward to virtually seeing you there and continue to build our partnership with the ICS Community. We are also working hard to have our 2023 meetings in-person. For more information, please contact us at: ICSJWG.Communications@cisa.dhs.gov. 
All webcasts from previous meetings were recorded for on-demand viewing and review, provided the presenter has released the material for on-demand viewing. Links below provide access to those which are available.
---
Past Meeting Information
Fall 2022 Virtual Meeting On-Demand Viewing
On-demand viewing of released presentations from the ICSJWG 2022 Fall Virtual Meeting may be accessed here.
Agendas or Links for Previous Meetings:
Please contact the respective author(s) directly for copies of presentations.  
---
ICSJWG Quarterly Webinars
ICSJWG Quarterly Webinars are designed to inform the membership and general public about solutions to threats, vulnerabilities, and risks to critical infrastructure and control systems. The search for outstanding and value-added topics is ongoing. Please feel free to send an abstract or short description of any webinar idea to ICSJWG.Communications@cisa.dhs.gov and the Program Office will add it to the topic queue for review and possible inclusion into the series. Our intent is to have a webinar each quarter of the year.  Please note that marketing or sales presentations aimed at gaining the audience's interest in services, capabilities, or products cannot be approved.
Our next webinar is scheduled for March 29, 2023!
Registration information will be provided soon.
___________________________________________________________________________________
Past Webinars
Past webinar presentations which have been released are found below and may be requested from the Program Office through ICSJWG.Communications@cisa.dhs.gov. If they are still available, they will be forwarded to you upon request.
November 2022: Public-Private Collaboration to Enhance Operational Technology Cyber Defense
August 2022: An Introduction to the New National Information Exchange Model (NIEM) Cyber Domain for Cyber Information Sharing
June 2022: INCONTROLLER: Analysis and Implications of The New State-Sponsored Threat to ICS
May 2022: Internet of Things and 5G: Exploring Cybersecurity Challenges in a More Connected World.
February 2022: Internet of Things: Embedded Security Guidance 
October 2021: The End is Near...Now What? Best Practices for End of Services and End of Life
June 2021: Supply Chain Risk Management in Operational Environments
January 2021: Bow Tie Model of Destructive Malware
October 2020: Robust Cyber Risk Management - Simplified
March 2020: OT Needs 'Special Consideration' Which Means a Modified Approach to Security and True IT/OT Convergence to Achieve a Robust VM Program
November 2019: Secure Operations Technology
July 2019: Persistent Threat-Based Security for ICS Systems
March 2019: Five Ways to Ensure the Integrity of Your Operations
September 2018: The Top 20 Cyberattacks on Industrial Control Systems
January 2018: Life After Ukraine: Industrial Control System Cybersecurity Industry Trends and Strategies
October 2017: Creating Predictable Fail Safe Conditions for Healthcare Facility: Related Control Systems and Medical Devices by Use of System Segmentation
July 2015: Protecting M2M Systems at the Edge
October 2014: The New Paradigm for Information Security: Assumption of Breach
June 2014: Online Real Time Monitoring for Change Identification
March 2014: I Think, Therefore I Fuzz!
---
Additional Information
Have questions? Please contact us at at ICSJWG.Communications@cisa.dhs.gov.
For additional information on this working group, see the ICSJG Fact Sheet.
---
Membership in the ICSJWG
By adding you to our membership rolls, you will receive all outgoing messages to the ICSJWG community, including newsletters, meeting notifications, training information, calls for comments, and other announcements. Volunteer participation, by contributing ideas, sharing information, or working toward solutions for CI security, is encouraged. To get involved supporting a working activity which addresses critical infrastructure security, please let us know your ideas and the ICJSWG Steering Team (IST) and Program Management Office (PMO) will consider them. To get involved with the ICSJWG in general, please contact us at
ICSJWG.Communications@cisa.dhs.gov
.