Mona Harrington
Assistant Director for the National Risk Management Center (NRMC)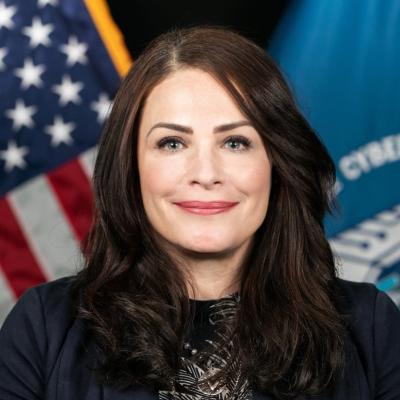 Mona Harrington was selected to lead the National Risk Management Center (NRMC) at the Cybersecurity and Infrastructure Security Agency (CISA) in September of 2022. As Assistant Director, she collaborates with public-private partners to identify, analyze, and mitigate risk from cyber and physical threats to critical infrastructure. Under her leadership, the NRMC is advancing its integrated analytic capabilities to support how government and industry share information, manage risk, and prepare and respond to threats.
Through the facilitation of strategic, cross-sector risk management efforts, Harrington oversees some of CISA's key initiatives to include the securing of elections, emerging technologies, and supply chains. She is the governmental co-chair for the Information and Communications Technology Supply Chain Risk Management Task Force.
Assistant Director Harrington is an accomplished executive who brings over 20 years of Federal Government experience. She has worked in a variety of leadership roles requiring the direction of multi-million-dollar budgets. Her expertise spans cybersecurity, strategy,  risk management, critical infrastructure, human capital, operations, and the implementation of best practices in critical infrastructure environments.
Prior to joining CISA, Assistant Director Harrington served in several positions for the U.S. Election Assistance Commission (EAC), including as the Executive Director and the Chief Information and Security Officer. As the Executive Director, she partnered with CISA on election critical infrastructure security initiatives and led COVID-19 response efforts; providing online resources to election officials as they prepared to administer elections during the pandemic. In addition, she directed the distribution of more than $425 million in security grant funds and $400 million in CARES Act funds to the states. Harrington assembled new cyber and clearinghouse teams to assist EAC stakeholders leading up to the 2020 election. Harrington can be credited with advancing the Voluntary Voting System Guidelines 2.0 (VVSG 2.0) to completion in 2021.
While serving as Chief Information and Security Officer at the EAC in 2018, Harrington was credited with modernizing the network and improving the EAC security posture of IT systems and critical infrastructure. Harrington directed the implementation of modern and secure security devices, virtual networks, and migrated to Cloud services. Harrington has proven herself to be an expert change agent and strategic thinker with extensive expertise in leading teams of professionals in the implementation of effective strategies that improve productivity while meeting agency goals.
Before joining the EAC, Harrington spent 17 years in cybersecurity and information technology leadership roles in the Judiciary, including as the Assistant Circuit Executive for IT and Security, overseeing multiple divisions responsible for all aspects of safeguarding software, data, and systems.
Assistant Director Harrington holds a Master of Science from the College of Applied Sciences, Rochester Institute of Technology with a concentration in cyber and chemical, biological, radiological, and nuclear warfare. She also holds a Senior Managers in Government Executive Certificate from the Harvard Kennedy School.