Thank you for your interest in requesting a CISA Speaker for Cybersecurity Awareness Month.  Below are some other ways in which you can participate in Cybersecurity Awareness Month.  
The CISA team has recorded a few videos that discuss Cybersecurity Awareness Month including the Four Key Behaviors and Secure by Design. Please visit ourYouTube Channelto gain access to these videos.  
Additionally, each week, CISA will spotlight one of the four key behaviorswe can all adopt to stay safe online. Engage with cybersecurity experts to learn more about these simple steps to secure connected devices, secure your work online and help family and friends be secure when connected at home. CISA's webinar series will take a deeper dive into these important actions to increase cybersecurity and Secure Our World.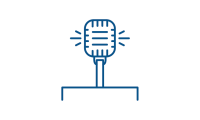 CISA maximizes its resources through unified integrated and cohesive stakeholder activities by engaging in speaking events and conferences. Follow the steps below to request a CISA speaker.
Step 1: Fill Out the CISA Speaker Request Form
If you would like to request CISA to participate in a speaking engagement, you must first fill out the CISA Speaker Request Form.
Step 2: Submit Your Request
Once you have your request form filled out, please email it as an attachment to CISA.Speakers@cisa.dhs.gov. 
Please Submit Requests Early
Please submit requests at least two weeks before your event.  Also, please allow three to five business days for a response to your request. 
Please be advised, your submission or request does not guarantee an acceptance.
If you have any questions or need help completing the speaker request form, you may contact our office at CISA.Speakers@cisa.dhs.gov.