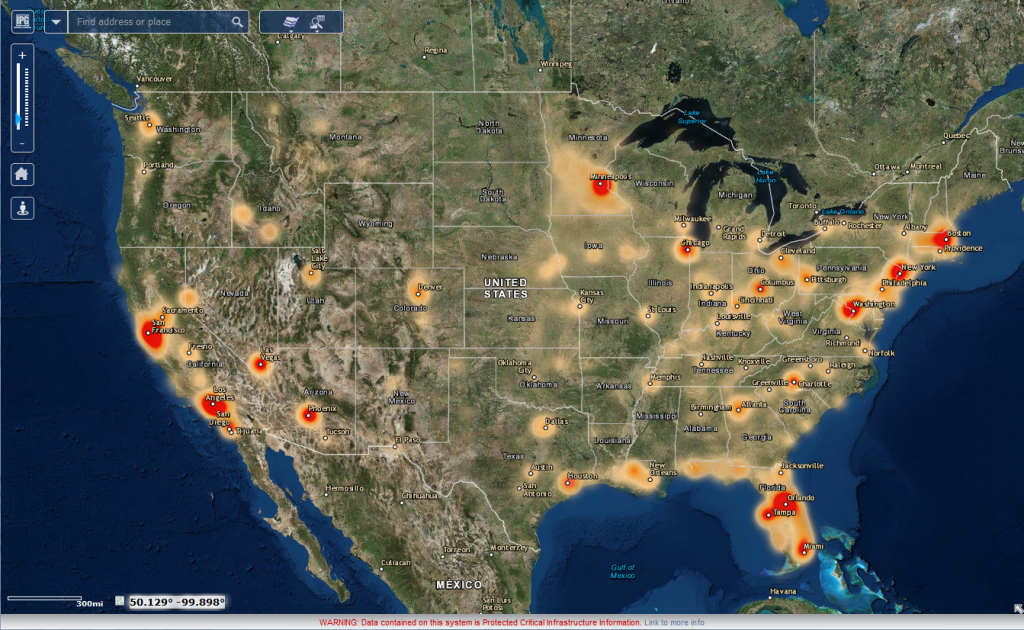 The CISA Gateway Map View function displays real-time information on critical infrastructure to increase situational awareness and provide a common operating picture of the nation's critical infrastructure. The Map View contains critical facility and asset data collected by the Cybersecurity and Infrastructure Security Agency (CISA) Infrastructure Security Division (ISD); the CISA Cybersecurity Division; the CISA National Risk Management Center (NRMC); and state, local, tribal, and territorial critical infrastructure protection mission partners. In addition to facility and asset information, the Map View also displays real-time overlays for weather, traffic, and population.
Visual Representation of Critical Infrastructure
The CISA Gateway's Map View function enables users to view information on critical facilities and assets in specific states, counties, and/or cities, providing a snapshot of the critical infrastructure within a particular jurisdiction. Selecting a particular facility or asset icon provides an overview of surveys, assessments, dependency information, and any reports available for a given facility or asset.
Map Overlays
The Map View features overlays that allow users to incorporate relevant, timely data into their infrastructure protection efforts. These overlays include static layers, such as facilities-by-sector, daytime population, or street-view pictures, and dynamic layers, such as current wildfire or weather elements. Other map layers include:
Weather
Traffic
Public Transit
Natural Hazards
Homeland Security Infrastructure Protection (HSIP) data
LandScan population data
Contact Us
Learn how the CISA Gateway Map View function can support your organization's homeland security efforts by contacting the CISA Gateway Help Desk at CISA-GatewayHelpDesk@cisa.dhs.gov or 1-866-844-8163.