ISC Webinars are designed to promote and share expertise and guidance on ISC policies, standards, and recommendations for federal facility infrastructure security and resilience. These webinars may also be applicable to other critical infrastructure including public buildings owned, leased, or managed by state, local, territorial, and tribal governments or private sector entities. The ISC Webinar Series features subject matter experts and practitioners who share their insights and experience.
Who Should Attend?
Facility Security Committee (FSC) Chairs, FSC Members, Executives, Managers and any personnel involved in making facility funding, leasing, security, or other risk management decisions.
Upcoming Webinars:
Security Convergence: Achieving Integrated Security
Hosted by Homeland Security Today
Wednesday, April 27, 2022
Convergence is no longer something to aim for, it is a strategic imperative. Today's threats include hybrid attacks targeting both physical and cyber assets.  Advancements in technology and the integration of the Internet of Things (IoT) into security operations and business processes have connected individual security devices and operational technology to the vast virtual ecosystem, expanding the potential attack surface of facilities and making traditional physical security and safety systems more vulnerable.
Providing reliable security for organizational assets presents numerous challenges for the security professional. Unfortunately, in many organizations, security is often controlled by separate authorities, resulting in a siloed approach to security. When organizational elements operate independently with minimal or no collaboration, the organization's overall security is reduced.
This webinar will briefly touch on the challenges of security convergence before providing an in-depth set of solutions and their associated long-term benefits. The presenters will share how organizations can implement solutions in several areas – organizational change/design, business processes, joint assessments and even what joint training can be pursued to bridge the differences between various professional disciplines.
Key objectives or outcomes for webinar participants include:
Describe the framework, methodologies and resources contained in Security Convergence: Achieving Integrated Security, An Interagency Security Committee Best Practice.

Develop increased awareness of the of the value of formal intra-organizational collaboration to produce integrated security.

Examine methods for achieving unity of effort or integrated security.   

Evaluate how to create a convergence strategy and plan based on the needs and structure of the organization.
To learn more about security convergence visit the ISC Polices, Standards, Best Practices, Guidance, and White Papers web page.
Protecting Against the Threat of Unmanned Aircraft Systems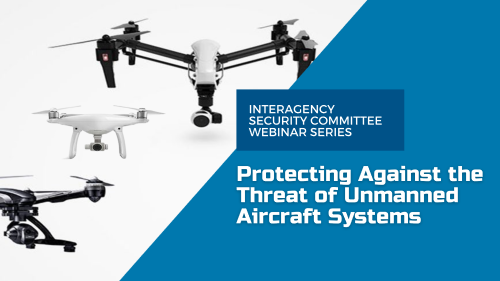 Hosted by the Interagency Security Committee
Thursday, May 06, 2021
The ISC's Protecting Against the Threat of Unmanned Aircraft Systems: An Interagency Security Committee Best Practice outlines awareness and mitigation measures for use by federal departments and agencies to protect against malicious UAS operations. Although most agencies do not have the authority to disable, disrupt, or seize control of an unmanned aircraft, there are other effective risk reduction measures they may implement. This webinar will provide best practices from the ISC's UAS best practice publication that any organization or facility can use to mitigate UAS threats.
UAS Webinar Recording:
UAS Webinar Slides: