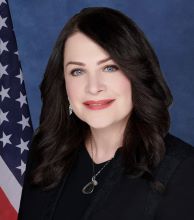 Mona Harrington serves as the (Acting) Assistant Director for National Risk Management Center (NRMC) at the Cybersecurity and Infrastructure Security Agency (CISA). In this role, she oversees the Center's efforts to facilitate a strategic, cross-sector risk management approach to cyber and physical threats to critical infrastructure. She identifies opportunities for collaboration with public-private partners to mitigate cyber and physical risk to National Critical Functions—those functions of the government and private sector are so vital to the United States that any disruption, corruption, or dysfunction would have a debilitating effect on security, national economic security, national public health or safety, or any combination thereof. She also oversees efforts to facilitate a strategic, cross-sector risk management approach to cyber and physical threats to critical infrastructure.
Mona Harrington is an accomplished executive with 20 years of experience serving in the federal government in a variety of executive roles requiring the direction of multi-million-dollar budgets. Her expertise spans cybersecurity, strategy, risk management, securing critical infrastructure, human capital, operations, and the implementation of best practices in critical infrastructure environments.
Mona assumed the Acting Executive Director role at the Election Assistance Commission (EAC) in October of 2019. Then in June of 2020, she was unanimously appointed to serve as the Executive Director. During this time, Mona strategically reorganized the EAC and directed a significant hiring initiative to recruit talent and fill numerous key personnel positions. In addition, she directed the distribution of more than $425 million in security grant funds and $400 million in CARES Act funds to the states. Mona assembled a new cyber team to assist EAC stakeholders leading up to the 2020 election. She established a new clearinghouse team consisting of several election subject matter experts to mitigate risk by providing best practices to election officials. Mona directed an immediate response to COVID-19, providing online resources to election officials as they prepared to administer elections during the pandemic. Mona can be credited with advancing the Voluntary Voting System Guidelines 2.0 (VVSG 2.0) to completion in 2021.
Prior to her Acting Executive Director role, Mona also served as the Chief Information and Security Officer at the EAC beginning in 2018. While in that role, she was credited with modernizing the network and improving the EAC security posture of IT systems and infrastructure, as well as coordinating and leading multiple parallel initiatives to modernize and secure systems.
Prior to the EAC, from 2009 to 2018, she served in senior leadership roles in the judiciary as an Information Security Officer, the Director of Information Technology, and as Chief Deputy Clerk II. She was responsible for safeguarding intellectual property including, patent and trademark case data. From 2002 to 2009 Mona served in leadership numerous roles including as a Project Manager, Supervisor of Computer Specialists, and as Assistant Circuit Executive for Operations.
Mona received a B.S. in Administration of Justice from George Mason University and a Master of Science from the College of Applied Sciences, Rochester Institute of Technology with a concentration in Cyber and CBRN. She also obtained a Senior Managers in Government, Executive Certificate from the Harvard Kennedy School.