The President's National Infrastructure Advisory Council (NIAC) is the only executive council that examines cross-sector critical infrastructure security and resilience issues and provides recommendations to the President on how to secure the nation's infrastructure. The Council includes up to 30 senior executives appointed from across the critical infrastructure sectors who volunteer their time to examine these serious issues for the President. Members draw upon their deep experience, engage national experts, and conduct extensive research to discern the key insights that lead to practical federal solutions to complex problems. The Council's diverse representation of owners and operators from multiple critical infrastructure sectors enables it to effectively identify cross-sector risks and practical ways to mitigate them.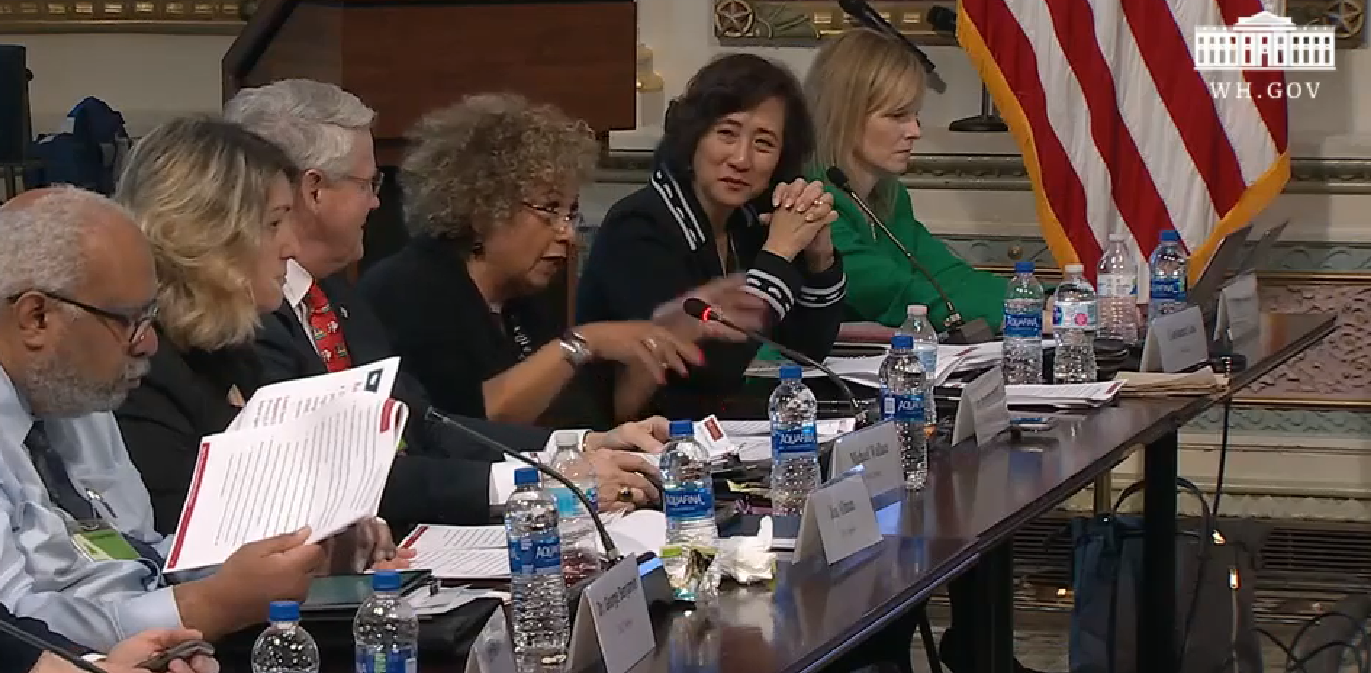 Council Chair: Ms. Constance H. Lau
Council Vice Chair: Dr. Beverly Scott
 
Member Bio Sheet (.pdf, 351.74 kb)
Jan Allman
SVP of Public Affairs and Community Relations, Fincantieri Marine Group
Ms. Allman comes to NIAC with extensive manufacturing and operational excellence experience. Prior to joining MMC, Ms. Allman served as the Vice President of Global Manufacturing at Navistar Corporation, where she and her manufacturing team played a pivotal role in helping to reinvent Navistar's manufacturing landscape. Under Ms. Allman's leadership, Navistar's vehicle and engineer manufacturing plants across North America implemented numerous rigorous standardized systems and processes and established dedicated onsite quality resources. These efforts resulted in significant improvements to the quality of Navistar's products and greater customer satisfaction.
Ms. Allman began her career with the Ford Motor Company at the Lima, Ohio, engine plant at the age of 19. She ended up spending 26 years at Ford in numerous vehicle and powertrain manufacturing roles with increasing responsibilities, with career assignments including engineering and production both in the U.S. and Europe. Her last position at Ford was as Chicago Assembly plant manager, where she was responsible for the plant's overall operation, the safety of its 2,500+ workforce, a $335M annual budget and more than $8B in annual revenue. During her tenure at the Chicago assembly plant, she successfully implemented a lean manufacturing model and launched nine vehicles in three years with a product portfolio complexity unlike any other facility. She and her team continued their focus on safety, improved labor hours per vehicle, exceeded budget targets, and delivered best-in-class quality during a time of rapid change.
Ms. Allman holds a S.S. in Manufacturing Engineering from GMI Engineering and Management Institute in Flint, Michigan.
Neil Alpert
Managing Director, Potomac Management
Mr. Alpert is the Managing Director of Potomac Management, an advisory firm that provides strategic advice to individuals, families, family offices, and select institutions. Prior to this, he served as the President and COO and ultimately as CEO of LaserLock Technologies, Inc. (today NASDAQ:VRME), a global technology solutions company delivering brand protection offerings to mitigate counterfeiting, product diversion, and illicit trade. Mr. Alpert has also been awarded multiple patents for security technologies. Previously, he spent over a decade in non-profit management.
Rand Beers
Former Acting Secretary - U.S. Department of Homeland Security
Rand Beers became the Acting Secretary of the U.S. Department of Homeland Security (DHS) on September 6, 2013. Previously he served as Acting Deputy Secretary from May 2013 until September 2013. In June 2009, Beers was nominated by President Barack Obama and confirmed by the U.S. Senate to serve as the Under Secretary for the National Protection and Programs Directorate (NPPD) at DHS where he led NPPD's integrated efforts to reduce risks to physical, cyber and communications infrastructures. Throughout his service at DHS prior to becoming Acting Secretary, Beers was a trusted advisor to the Secretary of Homeland Security, providing invaluable counsel and guidance on a wide spectrum of homeland security issues, from counterterrorism efforts to cybersecurity.
Prior to the Obama Administration, Beers was the President of the National Security Network, a network of experts seeking to foster discussion of progressive national security ideas around the country, and an Adjunct Lecturer at the Kennedy School of Government at Harvard.
Mr. Beers served on the National Security Council Staff under four Presidents as Director for Counter-terrorism and Counter-narcotics (1988-1992), Director for Peacekeeping (1993-1995), Special Assistant to the President and Senior Director for Intelligence Programs (1995-1998), and Special Assistant to the President and Senior Director for Combating Terrorism (2002-2003). He resigned from the NSC Staff in March 2003 and retired from government service in April 2003. Following his departure, he served as national security advisor for the Kerry campaign (2003-2004).
Beers began his professional career as a Marine Corps officer and rifle company commander in Vietnam (1964-1968). He entered the Foreign Service in 1971 and transferred to the Civil Service in 1983. He served most of his career in the Department of State, including as Deputy Assistant Secretary of State for Regional Affairs in the Bureau of Politico-Military Affairs, focusing on the Middle East and Persian Gulf (1992- 1993). He was Assistant Secretary of State for International Narcotics and Law Enforcement Affairs (1998-2002) and holds a bachelor's degree from Dartmouth College and a master's degree from the University of Michigan.
William Terry Boston
Former Chief Executive Officer - PJM Interconnection
Mr. William Terry Boston served as Chief Executive Officer of PJM Interconnection until October 2015. Mr. Boston served as an Executive Vice President of Power System Operations of Tennessee Valley Authority (TVA) for American Superconductor Corp. from 1999 until January 2008. Mr. Boston has more than 30 years of experience with TVA and oversaw the planning, building, operating, and maintaining of one of the nation's largest transmission and power supply networks. He also provided for transmission and related services to neighboring systems.
Mr. Boston served as Vice Chairman of the Southeastern Electric Reliability Council board of Directors and its Executive Committee. He also served as Vice President of CIGRE, the international Industrial Council of Large Electric Systems. He has been Director of The Electric Power Research Institute, Inc., and has served on the Executive Committee for the Electric Power Research Institute National Reliability Initiative, on the board of Directors for the North American Energy Standards Board, and on the Board's stakeholder committee for the North American Electric Reliability Council.
He holds B.S. in Engineering from Tennessee Tech and M.S. in Engineering Administration from the University of Tennessee.
Albert J. Edmonds
Lt. Gen. USAF (Ret.); President and Chief Executive Officer - Edmonds Enterprise Services, Inc.; Chief Executive Officer - Logistics Applications Inc.
Albert J. Edmonds, Lt. Gen. USAF (Ret.), President and CEO of Alexandria, Virginia- based Edmonds Enterprise Services, Inc., (EES) a technical services company offering high level consulting, and Logistics Applications Inc. (LAI), providing logistical support services, has more than 30 years of experience leading and supporting the Department of Defense (DoD) information technology (IT) community.
In addition to leading EES and LAI, Edmonds currently serves as a Presidential appointee on the National Infrastructure Advisory Committee, which advises the White House on cybersecurity. In November 2008, Mr. Edmonds was appointed to the U.S. Proxy Board of Thales Communications, Inc., an international supplier of secure, tactical, miniature communications systems. He is past Chairman of the Board of Mirius, a software development joint venture of Solers and FGM Inc.
As President of Electronic Data Systems (EDS) U.S. Government Division, Mr. Edmonds was responsible for ensuring U.S. federal, civilian, military, state, and local clients achieved unparalleled results in the digital economy. He oversaw all aspects of the company's relationship with the government, from strategic growth planning to delivery of the corporate services portfolio.
As Vice President of the Government Global Industry Group, Mr. Edmonds was responsible for providing leadership and information technology services to government activities worldwide. He managed a portfolio exceeding $3.5 billion, including the Navy Marine Corps Intranet contract, which, as of 2000, was the largest contract ever awarded by the U.S. DoD IT community. From June 1994 to June 1997, Mr. Edmonds was Director of the Defense Information Systems Agency (DISA). Under his leadership, DISA played a key role in developing the Defense Information Infrastructure and Common Operating Environment. He also served as Manager of National Communications Systems and directed the U.S. President's National Security Telecommunications Advisory Committee (NSTAC).
Mr. Edmonds is the former Chairman and current member of the Executive Committee of the Board of the Armed Forces Communications-Electronics Association, a member of the Board of Directors of the Military Officers Association of America, and a member of the Air Force C4 Association. Mr. Edmonds is a graduate of the Senior Officials in National Security Program at Harvard University.
William J. Fehrman
President and Chief Executive Officer - Berkshire Hathaway Energy
Mr. Fehrman leads Berkshire Hathaway Energy, a diversified global holding company that owns subsidiaries principally engaged in energy businesses in the United States, Canada, Great Britain and the Philippines. He is one of the chief executive officers chosen to represent the electric industry on the ESCC, and he also serves as vice chair of the Electricity Information Sharing and Analysis Center (E-ISAC) Member Executive Committee.
Benjamin Fowke
Chairman, President, and Chief Executive Officer - Xcel Energy
Ben Fowke is chairman, president, and CEO of Xcel Energy, a leading U.S. energy company headquartered in Minneapolis, Minnesota. Xcel Energy provides electricity and natural gas service for millions of customers in eight states.
Fowke has extensive operating and financial experience in the energy business, having served as Xcel Energy's president and chief operating officer, as well as vice president and chief financial officer. He also led the company's commodities trading and marketing operations and now serves on the board of directors of the Edison Electric Institute, Nuclear Energy Institute, Energy Insurance Mutual, and Institute of Nuclear Power Operations. In the community, Fowke serves on the board of directors of the Minnesota Business Partnership and Greater MSP and is an advisory board member of the Metropolitan Economic Development Association.
He received his Bachelor of Science from Towson University and holds a Certified Public Accountant certificate.
Steve Gatena 
Founder and CEO - Pray.com
Mr. Gatena is an entrepreneur, executive, and media producer. He is the founder and CEO of Pray.com, the world's #1 app for daily prayer and faith-based audio content. Mr. Gatena has also served as the CEO of aerial stock footage companies VideoFort, air medical transport company Helinet, and corporate communications company REP Interactive.
George Hawkins
Former Chief Executive Officer and General Manager - District of Columbia Water and Sewage Authority
George Hawkins serves as CEO and General Manager of the District of Columbia Water and Sewer Authority (DC Water). Upon his arrival in 2009, Mr. Hawkins launched an ambitious agenda to transform DC Water into a customer-oriented enterprise that is driving innovation and delivering improved value to its ratepayers. The core goal is to improve aging infrastructure while complying with stringent regulatory requirements.
DC Water is implementing the $2.6 billion Clean Rivers Project to nearly eliminate overflows of sewage and storm water to the Anacostia and Potomac rivers and Rock Creek. DC Water has invested $950 million to achieve the next level of nutrient reductions to help restore the Chesapeake Bay. DC Water is also nearing completion of a
$470 million waste-to-energy program to help manage solids being removed from reclaimed water while generating 13 megawatts of green power. Finally, Mr. Hawkins tripled the rate of DC Water's program to replace water and sewer infrastructure.
DC Water is also driving industry leading efforts in customer engagement, including a vibrant social media presence; science and engineering research and development; and product development and licensing. DC Water employs an Innovation Chief and is designing a crowd sourcing program to encourage innovative ideas from staff and then customers, and to support a utility driven business incubator for businesses and local jobs. Mr. Hawkins has also launched DC Water Works!, a program to experiment with cost-efficient techniques to encourage local workforce development and hiring.
Prior to joining DC Water, Mr. Hawkins served as director of the District Department of the Environment (DDOE). Previously, Mr. Hawkins was the executive director of several non-profit organizations in New Jersey, including New Jersey Future, the Stony Brook Watershed Association, and the New Jersey Council of Watershed Associations. Mr. Hawkins held senior positions with the United States Environmental Protection Agency (EPA) and he served Vice President Gore on the National Performance Review, playing an integral role in strengthening environmental protection programs at EPA and Occupational Safety and Health Administration (OSHA).
Mr. Hawkins began his career practicing law for the Boston firm Ropes & Gray, and is a member of the Bar in Massachusetts and the District of Columbia. He graduated Summa Cum Laude from Princeton University and Cum Laude from Harvard Law School. Since 1999, Mr. Hawkins has taught Environmental Law and Policy for the Princeton Environment Institute at Princeton University.
Reynold N. Hoover
Former Deputy Commander - U.S. Northern Command
Lt. Gen. USNORTHCOM (Ret.) Hoover recently retired from 35 years of government and private industry service. During his career, Lt. Gen. Hoover served as Special Assistant to the President of the
United States for Homeland Security, Chief of Staff of the Federal Emergency Management Agency (FEMA), Senior Intelligence Service Officer at the Central Intelligence Agency (CIA), and Chief Counsel and Assistant Vice President of Law and Risk Management for CSX Intermodal, Inc.
 
Timothy O. Horne
Founder and President - Tim Horne LLC; Former Acting Administrator - General Services Administration
Mr. Horne is the founder of Tim Horne LLC, where he works with clients to develop strategies for increasing relevance and leverage in the federal market. He previously spent 27 years at GSA, most recently serving as the Rocky Mountain Regional Commissioner of GSA's Public Buildings Service until February 2020. Before this, he served as GSA's Acting Administrator in 2017, Federal Transition Coordinator for the 2016 Presidential Transition, and Regional Commissioner of GSA's Federal Acquisition Service.
Rhoda Mae Kerr
Fire Chief - City of Fort Lauderdale Fire Rescue
Chief Rhoda Mae Kerr is a fourth-generation firefighter who began her career in the fire service in 1983. Chief Kerr was sworn in as the President of the Metro Chiefs in May 2016, where she also received the 2016 President's Award for Distinction.
Prior to beginning her tenure in Austin in 2009, Chief Kerr served in the same position with the city of Little Rock, Arkansas, for five years. She was also Deputy Fire Chief at Fort Lauderdale, Florida, for five years, but with that department for more than 20 years; it was the place she began her career in firefighting. Prior to entering the fire service, Chief Kerr was a coach and physical education teacher at the high school level for 12 years.
She served as President of the International Association of Fire Chiefs (IAFC) from August 2015 to August 2016, the first time a female has served in that role in the IAFC's 141-year history. She was also Past Chair of the Human Relations Committee of the IAFC, Past President of the National Society of Executive Fire Officers (NSEFO), and the past Southwest Director of the National Society of Executive Fire Officers. She currently serves as the Vice President of the Metropolitan Fire Chiefs' Association, and is actively involved as a member of the FireRescue magazine Editorial Board and the Austin Area Urban League. She is also a member of the Texas Fire Chief's Association and the Capital Area Fire Chief's Association, and the International Association of Women in the Fire and Emergency Services. Chief Kerr also serves on the Advisory Committee for St. Edward's University's Public Safety Management Program, and was recently honored as a 2013 Girl Scouts of Central Texas Woman of Distinction.
Chief Kerr holds a Master's in Public Administration (Florida International University), a Bachelor of Arts degree in Physical Education and Health (William Paterson University), an Associate's degree in Fire Science Technology (Broward Community College), as well as two certifications from the Harvard University program: one for Senior Executives in State and Local Government and the other for the National Preparedness Leadership Initiative. She is also a graduate of the National Fire Academy's Executive Fire Officer Program.
Constance H. Lau
President and Chief Executive Officer - Hawaiian Electric Industries, Inc. (HEI)
Constance H. Lau currently serves as Director, President and Chief Executive Officer for Hawaiian Electric Industries, Inc. (HEI). She also serves as Chairman of the Board of its two principal subsidiaries, Hawaiian Electric Company (HECO), the electric utility which serves 95% of the state of Hawaii, and American Savings Bank (ASB), Hawaii's third largest bank.
Over her 28 years with HEI, Ms. Lau has held many director and officer positions with the HEI companies, including President and Chief Executive Officer of American Savings Bank from 2001 to 2006. Ms. Lau serves as a board member of Matson, Inc., Associated Electrical & Gas Insurance Services, Ltd., Edison Electric Institute, Electric Power Research Institute, and the Asia Pacific Center for Security Studies, and represents community banks, thrifts and credit unions in Hawaii and Guam on the Federal Reserve Bank of San Francisco's Twelfth District Community Depository Institutions Advisory Council. She is also a trustee or director of Punahou School, the Hawaii Business Roundtable and the Consuelo Zobel Alger Foundation.
Ms. Lau holds a B.S. from Yale University, a J.D. from the University of California's Hastings College of Law and an M.B.A. from Stanford University.
Richard H. Ledgett, Jr.
Senior Visiting Fellow - The MITRE Corporation; Former Deputy Director of the National Security Agency (NSA)
Mr. Ledgett is a recognized expert in cyber threats and cybersecurity, with nearly 30 years of experience with the NSA and more than 10 years in the U.S. Army as a cryptologist. He was the first national intelligence manager for cyber at the Office of the Director of National Intelligence and oversaw the creation of the Unified Intelligence Strategy for Cyber as principal advisor to the Director of National Intelligence on cyber matters.
Randolph R. Lowell
Partner - Willoughby & Hoefer
Mr. Lowell has served as counsel on a number of infrastructure and utility projects in the rail, port, highway, nuclear, water and wastewater, and electric and gas sectors. He currently serves as the outside General Counsel for the South Carolina Ports Authority and for JJE Capital Holdings and its subsidiaries. He also currently serves on the board of the College of Charleston and the advisory board of the MUSC Children's Hospital.
Kevin M. Morley, PH.D.
Manager of Federal Relations - American Water Works Association (AWWA)
Dr. Morley has more than 20 years of experience evaluating and advancing the resilience of the water sector. In his role at AWWA, he has worked closely with federal agencies and the Water Sector
Coordinating Council to expand mutual aid and assistance via the Water/Wastewater Agency Response Network (WARN). In addition, he has supported the development of water sector standards and guidance for security and preparedness.
Carl Newman
Airport Administrator (Manager) - Glendale Municipal Airport
Mr. Newman has almost 40 years of aviation experience, and prior to his current position was the CEO of the Jackson Municipal Airport Authority (JMAA) in Jackson, Mississippi. Before that, Mr. Newman served as General Manager for the Houston Airport System's George Bush Intercontinental Airport (IAH), and earlier in his career spent over 30 years at Sky Harbor Airport in Phoenix, Arizona in various leadership roles. Mr. Newman is also a former board member, chairman, and Executive Committee member of the American Association of Airport Executives (AAAE).
Kirstjen Nielsen
President and Founder - Lighthouse Strategies; Former Secretary - Department of Homeland Security
Secretary Nielsen is an internationally recognized expert and proven leader on critical security challenges, including cybersecurity, enterprise risk, resiliency, and emerging threats. Currently, she is the President of the second advisory company she founded, Lighthouse Strategies. She served as the sixth Secretary of Homeland Security and worked to ensure that the men and women of the Department have the authorities, tools and resources they need to execute their mission. She previously served as the White House Principal Deputy Chief of Staff and prior to that, served as the DHS Chief of Staff. From 2004-2007, Ms. Nielsen served as Special Assistant to the President for Prevention, Preparedness, and Response on the White House Homeland Security Council. She helped to stand up the TSA after the tragic events of 9-11, and earlier in her career, practiced corporate law at Haynes and Boone LLP and worked for U.S. Sen. Connie Mack III.
She is a Member of the National Infrastructure Advisory Council, the U.S. Secretary of Energy's Advisory Board, Australia's Cyber Security Industry Advisory Panel, and the Homeland Security Experts Group.
She holds a B.S. in Foreign Service from Georgetown University and a J.D. from the University of Virginia's School of Law.
Keith T. Parker
President and Chief Executive Officer - Goodwill Industries of North Georgia
Mr. Parker previously led the Metropolitan Atlanta Rapid Transit Authority (MARTA) for five years. 
He has worked in the public and private sectors in Virginia, California, Washington State, North Carolina, and Texas. Mr. Parker previously served as CEO for transit systems in San Antonio, Texas and Charlotte, North Carolina.
Ola Sage
Founder and Chief Executive Officer - CyberRx; Chair - Vistage Worldwide, Inc.
Ms. Sage has spent more than 20 years improving the cybersecurity readiness of small- and medium-sized businesses through engagement with CEOs, business groups, and Congress. As CEO of CyberRx, she leads the development of software platforms and solutions that businesses can use to track, measure, and improve their cybersecurity health and preparedness. Prior to this position, Ms. Sage was President and CEO of a government focused information technology professional services company for 18 years. From 2016 to 2018, Ms. Sage served as the Chair of the Information Technology Sector Coordinating Council (IT SCC). Ms. Sage also serves on the executive committee of the nation's first Information and Communications Technology (ICT) Supply Chain Risk Management Task Force, a public-private partnership with the U.S. Department of Homeland Security.
Beverly A. Scott
Ph.D.; Chief Executive Officer - Beverly Scott Associates, LLC
Dr. Scott's career in the public transportation industry spans more than three decades, including four appointments as General Manager/CEO – General Manager, Massachusetts Bay Transportation and Rail & Transit Administrator for the Commonwealth of Massachusetts, the Metropolitan Atlanta Rapid Transit Authority (MARTA), the Sacramento Regional Transit Authority (SRTD), and the Rhode Island Public Transit Authority (RIPTA), one of four statewide public transit systems.   She has also served in senior level positions at New Jersey Transit Corporation (NJT), the Washington Metropolitan Area Transportation Authority (WMATA), Dallas Area Rapid Transit (DART), and the Houston Metropolitan Area Transit Authority (Houston METRO).
In 2011, she was appointed by President Obama to the National Infrastructure Advisory Council (NIAC). In 2012, she was appointed NIAC Vice-Chair.
Dr. Scott holds a doctorate in political science, with a specialization in public administration from Howard University, and a Bachelor of Arts in Political Science from Fisk University (magna cum laude and Phi Beta Kappa).
David Thomas 
Vice President of Security & Ballpark Operations - Major League Baseball (MLB)
Mr. Thomas is an experienced security professional and served with the U.S. Secret Service for 25 years, finishing his career as the Special Agent in Charge of the San Francisco Field Office. Mr. Thomas served briefly as the Vice President of Security Operations for the Sacramento Kings and went to work for MLB in 2018, serving as the Managing Director for Security and Facility Management before taking his current role.
Michael J. Wallace
Former Vice Chairman and Chief Operating Officer - Constellation Energy; Member, Cybersecurity Subcommittee - DHS Homeland Security Advisory Council; Member, Steering Committee - Electric Subsector Coordinating Council (ESCC)
Mr. Michael J. Wallace retired in April 2011 as Vice Chairman and COO of Constellation Energy and Chairman of Constellation Energy Nuclear Group, which includes nuclear generation of 3,869 megawatts, 3 sites, and 5 units in 2 states. In addition, in his capacity as COO, Mr. Wallace had direct responsibility for several different business groups, including the wholly owned subsidiary, Baltimore Gas and Electric (BGE), and the company security organization.
Prior to joining Constellation Energy Group, Mr. Wallace was Managing Director of Barrington Energy Partners, LLC, a strategic consulting firm specializing in energy industry transactions and advisory services. He co-founded the firm in 1998 and advised energy company executives on mergers and acquisitions, transaction financing, and market and investment opportunities.
Mr. Wallace has a Bachelor's in Science in Electrical Engineering from Marquette University and a Masters of Business Administration from the University of Chicago with a specialization in finance. He also served as a naval officer in the U.S. Navy nuclear submarine force.
Mr. Wallace serves on the Board of Emirates Nuclear Energy Corporation (ENEC), is an advisor to the CEO, and also chairs the ENEC Board Committee on Nuclear Power.  ENEC is engaged in the construction and operation of the Barakah Nuclear Power Plant (4 units, 5,600 megawatts). Mr. Wallace also serves on the Advisory Board of Centrus Energy Corporation, the U.S. based trusted supplier of enrichment uranium fuel for commercial nuclear power plants.
Daniel P. Walsh
Senior Vice President and Corporate Strategic Advisor - CACI
Before joining CACI in February 2020, Mr. Walsh held several senior management positions in the White House, most recently as Assistant to the President and Deputy Chief of Staff for Operations. He has also held the titles of Deputy Assistant to the President and Director of the White House Military Office (WHMO), Deputy Director of WHMO, and Military Aide to the President. Prior to his service in the White House, Mr. Walsh served in the Coast Guard for 24 years in a variety of operational and staff assignments.