Author: Ken Bradley, Department of Homeland Security (DHS) Cybersecurity and Infrastructure Security Agency (CISA) Office of External Affairs
The Cybersecurity and Infrastructure Security Agency (CISA) will be at the 2019 International Wireless Communications Expo (IWCE) at the Las Vegas Convention Center in Las Vegas, Nevada, from March 4 to 8.
This year CISA is partnering with the Department of Homeland Security Science and Technology Directorate (S&T) at the Exhibit Hall in Booth #715 or you catch us at one of the many panel discussions we'll be participating in at the IWCE with our public safety partners: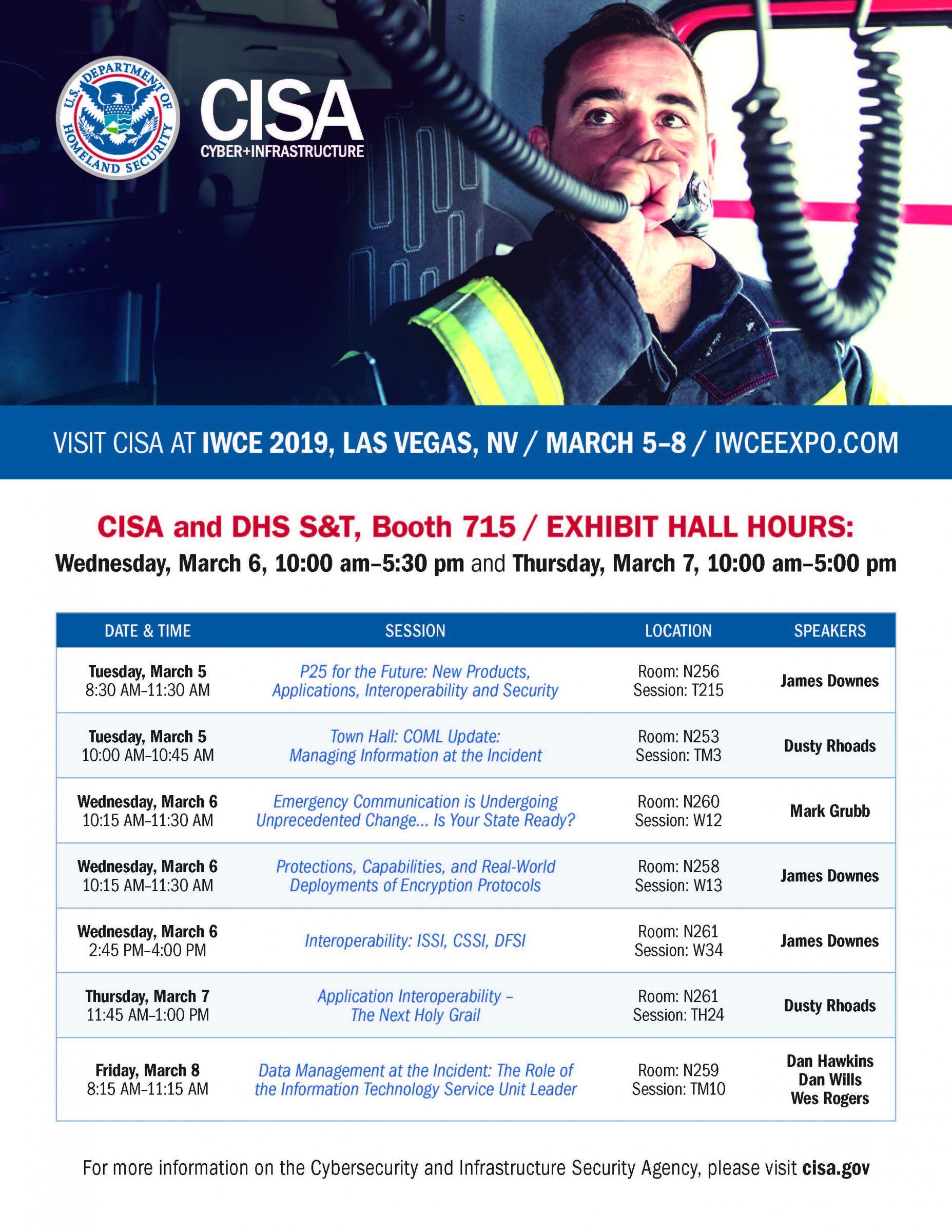 Tuesday, March 5th
P25 for the Future: New Products, Applications, Interoperability and Security
8:30 AM – 11:30 AM; Room N256
James Downes, Steve Nichols, Dominick Arcuri, Andy Davis, Jeremy Elder, Keith La Plant, Alan Massie, Justin Evans, Del Smith, Cindy Cast, Jim Holthaus, Robin Grier
Town Hall: COML Update: Managing Information at the Incident
10:00 AM – 10:45 AM; Room N253
Dusty Rhoads, Gerald Reardon, John Contestabile, Niki Papazoglakis
Wednesday, March 6th
Emergency Communication is Undergoing Unprecedented Change… Is Your State Ready?
10:15 AM – 11:30 AM; Room N2260
Mark Grubb, Brad Stoddard, Michael Garcia, Robert Coupe
Protections, Capabilities, and Real-World Deployments of Encryption Protocols
10:15 AM – 11:30 AM; Room N258
James Downes, Scott Wright, Steve Dyson, Alan Massie, John Bryant, Keith LaPlant, Andy Davis
Interoperability: ISSI, CSSI, DFSI
2:45 PM – 4:00 PM; Room N261
James Downes, Scott Wright, Justin Evans, Greg Jurrens, Andy Davis, Tom Burkett, Nick Pennance
Thursday, March 7th
Application Interoperability- The Next Holy Grail
11:45 AM – 1:00 PM; Room N261
Dusty Rhoads, Joshua Jack, Niki Papazoglakis
Friday, March 8th
Data Management at the Incident: The Role of the Information Technology Service Unit Leader
8:15 AM – 11:15 AM; Room N259
Dan Hawkins, Dan Wills, Wes Rodgers, Chris Lombard
For more information regarding CISA's participation in IWCE, please visit www.iwceexpo.com.