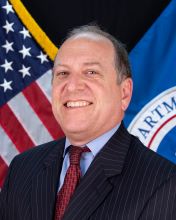 Mr. Kaufman is the Acting Chief Counsel in U.S. Department of Homeland Security's (DHS) Cybersecurity and Infrastructure Security Agency (CISA) Office of Chief Counsel. He has been the Principal Deputy Chief Counsel since December 2016. As a career member of the Senior Executive Service (SES), Mr. Kaufman leads the Office of Chief Counsel, which provides legal support and guidance to CISA's enterprise services and specialized divisions on a wide variety of security, technological, and administrative issues including cybersecurity, privacy, information, grants and cooperative agreements, information security, physical infrastructure, federal complex civil litigation, procurement, internal investigations, constitutional, employment, tort, and ethics law. Mr. Kaufman has been with the DHS since 2010.
Prior to becoming the Principal Deputy Chief Counsel, Mr. Kaufman was an operational attorney supporting DHS's Federal Protective Service (FPS). He advised on a plethora of legal issues impacting FPS's law enforcement and federal facility security mission nationwide. He also served on a leadership detail with the U.S. Secret Service.
Before joining DHS, Mr. Kaufman served as an Associate Chief Counsel in the Office of Chief Counsel of the U.S. Drug Enforcement Administration (DEA). Mr. Kaufman established and managed the DEA's Division Counsel Program after serving as its first Division Counsel in the Miami Field Division in 2000. In Miami, he provided advice and counsel on operational and legal issues, mainly focusing on electronic surveillance issues.    
Mr. Kaufman began his federal career in the FDIC's Office of General Counsel, Office of Special Litigation where he litigated complex cases arising from the country's savings and loan crisis in the 1980s and 1990s. He graduated from American University Law School (JD) in 1989.  He received his B.A. from George Washington University in 1986.