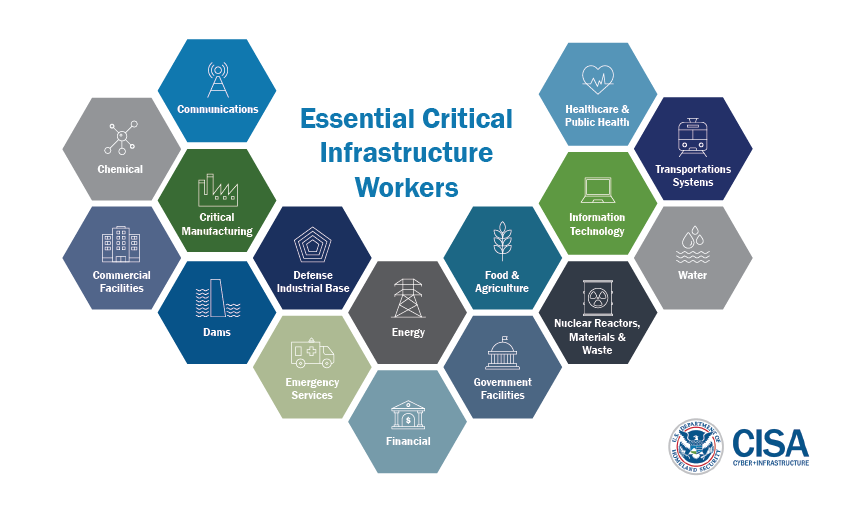 NOTE: This information was originally posted on March 19 and was updated on April 17.
Report a Critical Infrastructure worker denied movement situation.
Guidance on the Essential Critical Infrastructure Workforce
Functioning critical infrastructure is imperative during the response to the COVID-19 emergency for both public health and safety as well as community well-being. Certain critical infrastructure industries have a special responsibility in these times to continue operations. 
CISA's Identifying Critical Infrastructure During COVID-19 guidance and accompanying list are intended to support state, local, and industry partners in identifying the critical infrastructure sectors and the essential workers.
This document gives guidance to state, local, tribal, and territorial jurisdictions and the private sector on defining essential critical infrastructure workers. Promoting the ability of such workers to continue to work during periods of community restriction, access management, social distancing, or closure orders/directives is crucial to community resilience and continuity of essential functions. CISA made a technical update to the document on March 23, 2020 to clarify the description of a small number of essential services and functions in the list. 
If you have feedback or additional questions, please reach out to: CISA.CAT@cisa.dhs.gov  
Learn more about CISA's guidance or read today's press release.
Interim Guidance for Implementing Safety Practices for Critical Infrastructure Workers Who May Have Had Exposure to a Person with Suspected or Confirmed COVID-19
CDC advises that critical infrastructure workers may be permitted to continue work following potential exposure to COVID-19, provided they remain asymptomatic and additional precautions are implemented to protect  them and the community.
16 Critical Infrastructure Sectors
There are 16 critical infrastructure sectors whose assets, systems, and networks, whether physical or virtual, are considered so vital to the United States that their incapacitation or destruction would have a debilitating effect on security, national economic security, national public health or safety, or any combination thereof. Presidential Policy Directive 21 (PPD-21): PPD-21 identifies 16 critical infrastructure sectors.
Defense Industrial Base Sector
Healthcare and Public Health Sector
Nuclear Reactors, Materials, and Waste Sector
Water and Wastewater Systems Sector
Frequently Asked Questions
Why is CISA issuing new Essential Critical Infrastructure Worker guidance so soon?

The Essential Critical Infrastructure Worker Guidance 3.0 builds on the first version released on March 19 and Version 2.0 released on March 28.

As noted previously, this guidance was developed in consultation with government and industry and intended to be updated and refined as we receive additional feedback.

In this fluid and rapidly evolving COVID-19 emergency, CISA is maintaining a flexible approach so we can be responsive to feedback and needs as near real-time as possible.

Based on feedback received during the weeks since the Guide was published, CISA has made some updates to include additional critical infrastructure workers

.
 

What was updated in Version 3.0?

Version 3.0 of the guidance clarifies and expands critical infrastructure workers in several categories and provides additional information as considerations for both government and business.

Several updates were made to the Healthcare/Public Health category, clarifying worker categories related to health care, public and environmental health, emergency medical services, and aligning related job functions. In all worker categories, references to "employees" or "contractors" were changed to "workers."

Other additions include:

Updated language focused on sustained access and freedom of movement;
A reference to the CDC's guidance on safety for critical infrastructure workers;
Language noting the essential role of workers focused on information technology and operational technology;
Clearer guidance that sick workers should avoid the job site;
A reference to the U.S. Coast Guard's (USCG) Marine Safety Information Bulletin on essential maritime workers, and;
Clarified language on vehicle manufacturers, judges and lawyers supporting the judicial system, agricultural jobs, and transportation-specific education.

This guidance is intended to support decision makers in communities and jurisdictions across the country during the COVID-19 emergency and it is non-binding.
 

What is the purpose of the guidance CISA is issuing?

As the Nation's risk advisor, CISA developed this guidance to help state and local governments and the private sector ensure that employees essential to operations of critical infrastructure can continue working with as little interruption as possible. The purpose of this guidance is to sustain communities' public health and safety of government, economy, and society despite possible impacts to the workforce and critical infrastructure workforce brought on by consequences of COVID-19.
State and local officials can use this guidance to help manage the response and harmonize guidance across jurisdictions. The guidance supports efforts to ease movement of critical infrastructure workers within and between jurisdictions.
 

Who is this guidance intended for?

CISA is issuing this guidance to help government and private sector partners clarify the scope of critical infrastructure and identify key personnel who are essential in operating critical systems and assets. Critical infrastructure requires continuity and resilience to maintain the health and economic wellbeing of communities and the Nation. This continuity will require coordination between government and private sector to ensure key employees are able to get to work.
 

How is this different than traditional disasters or emergencies impacting critical infrastructure?

COVID-19 is different than any emergency the Nation has faced, especially considering the modern, tightly interconnected economy and American way of life. In traditional emergencies, government coordinates with the private sector to get businesses back to business. In this case, as the government works with partners to slow the spread of COVID-19, the economic goal is maintaining resilience of the Nation's foundation—its critical infrastructure.
 

What is critical infrastructure?

As defined by USA Patriot Act of 2001 (42 U.S.C. 5195c(e)), critical infrastructure includes any "systems and assets, whether physical or virtual, so vital to the United States that the incapacity or destruction of such systems and assets would have a debilitating impact on security, national economic security, national public health or safety, or any combination of those matters." This definition is appropriately broad to include a wide range of stakeholders who either directly or indirectly enable the functionality of infrastructure systems.
 

Who are critical infrastructure employees?

In the modern economy, there are many types of employees required to sustain normal day-to-day services that enable our economy and our way of life. This goes far beyond utilities and public works. This guidance offers an initial baseline for governments and industry to use when identifying key groups of employees that may require accommodation to ensure infrastructure function is not degraded during COVID response.
 

What if this guidance differs from workers identified in Public Health Orders or other requirements issued by State and Local Jurisdictions?

The attached guidance was provided to clarify the potential scope of critical infrastructure to help inform decisions by state and local jurisdictions, but does not compel any prescriptive action. Ultimately, those jurisdictions will need to issue guidance that balances the importance of public health concerns with infrastructure resilience imperatives.
 

Is this guidance binding?

No. This guidance is not binding and is primarily a decision support tool to assist state and local officials. It should not be confused as official executive action by the United States Government.
 

What are the next steps in this effort?

Recognizing that the COVID-19 environment is fluid and unique in our history, CISA will continue to work with the critical infrastructure community to provide supportive tools and analysis to help operationalize this guidance. Future efforts will be responsive to the needs of CISA's partners across the country in both government and the private sector.
 

What does it mean to be included on this list?

The list of essential workers should be considered by state and local government officials as those with prioritized need for access and re-entry into, out of, and through areas where shelter-in-place, quarantine, cordons, and restricted areas. Different jurisdictions may come to different conclusions as to where essential worker accommodation is warranted based on the prevalence and density of certain infrastructure activity and assets in that area.
 

My job/company is not listed; what now?

The intricacies of different jurisdictions and industries means that it is impossible to identify every critical component of every industry across the country. Priorities will also change over time. This guidance is a starting point for jurisdictions to work with their local businesses and for businesses to communicate their needs to their partners in government.
There is a well-established critical infrastructure community managed by CISA and partner Sector-Specific Agencies that includes avenues for engagement for government and industry.
 

My company is not critical to the city where it is located, but interruptions to our services could be a crucial issue for other communities. How should I address this?

It is important for governments to remember that the impacts of interruptions to critical infrastructure services may be felt far from your borders. The downstream impact of a restriction on workers in your community must be considered.
Identify critical functions within your supply chain (e.g., third-party vendors, suppliers, service providers, and contractors) who are necessary to maintain critical operations and services, and solutions if potential interruptions occur to the supply chain.
 

How do I decide if a business or a business activity is critical?

For governments, examine the key employers in your jurisdiction and the key enablers of your communities (e.g., utilities, internet providers, food and medical providers) and consider also what companies are key contributors to supply chains/distribution or the digital infrastructure.
For businesses, the focus during this response is maintaining the businesses and services that enable continued economic and social vitality. It is not focused on maintaining business as usual nor is it trying to sustain the operating capacity of non-critical businesses and industries.
 

How does this document impact or relate to guidance regarding international travel and border restrictions?

This guidance is non-binding and in no way changes any existing statutes or executive action around travel and border restrictions, or trade policy.