Super Bowl LVI may be five months away, but CISA Region 9's staff is already gearing up for game day. CISA's Protective and Cyber Security Advisors, and Emergency Communication Coordinators play an important role in supporting major, high-profile events. On Feb. 13, 2022, they will support local security efforts for Super Bowl LVI—a Special Event Assessment Rating (SEAR) Level 1 category event—being held at SoFi Stadium in Inglewood, California. Completed in July 2020, SoFi Stadium is the NFL's newest, state-of-the-art facility, which will be home to both the Los Angeles Rams and Los Angeles Chargers football teams.  The entertainment complex includes the 70,000-seat stadium (expandable up to 100,240) and includes YouTube Theater, an adjacent indoor music and theater venue.
In Spring 2020, Region 9 Emergency Communications Coordinator Tom Lawless began attending the Super Bowl LVI Communications Committee working group meetings at Inglewood Police Department headquarters. Lawless brought in the Federal Communications Commission to discuss planning for intended and unintended interference issues, as well as the Customs and Border Protection (CBP) to discuss communications coordination and aviation operations. CBP will be enforcing the air space above and around the venue. In addition, Lawless leads a monthly meeting of commercial telecommunications vendors to identify issues and solutions related to Super Bowl LVI.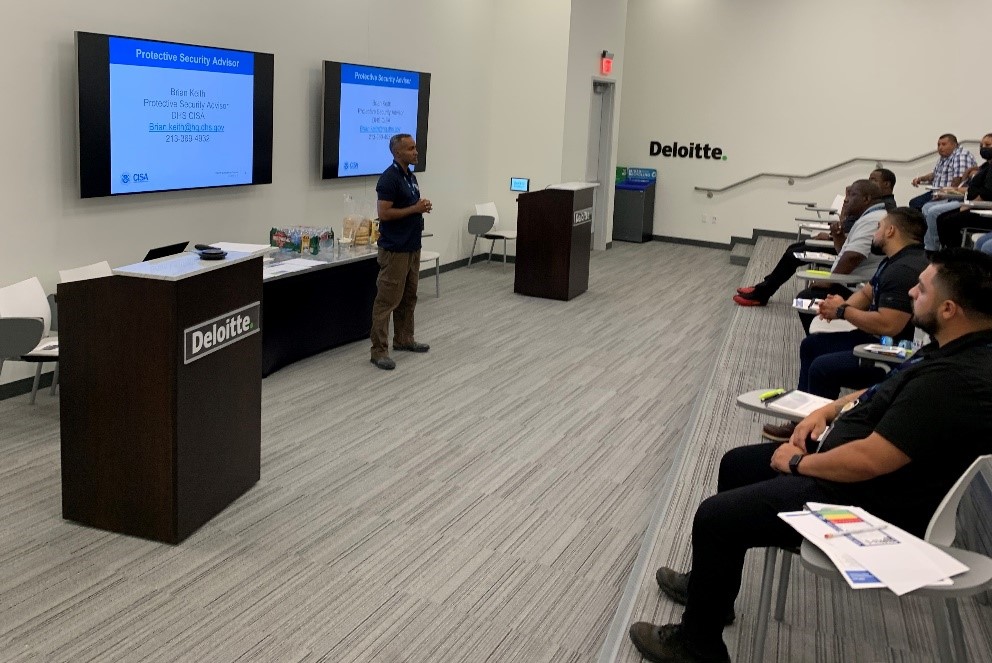 PSA Brian Keith addresses SoFi Stadium security staff during a Vehicle Borne Improvised Explosive Devices course on July 13, 2021.
In Fall 2020, Region 9 (Los Angeles District) Protective Security Advisor Brian Keith conducted physical security assessments of SoFi Stadium using the Infrastructure Survey Tool and the Infrastructure Visualization Platform in preparation for Super Bowl LVI.  In February 2021, PSA Keith collaborated with CISA's Office for Bombing Prevention (OBP) and the U.S. Army Corps of Engineers' Engineer Research and Development Center to build a 3D model of the stadium which will be used to create a blast effects analysis to mitigate the threat of improvised explosive devices.  In addition to the blast effects modeling, PSA Keith, along with OBP personnel recently conducted two Vehicle Borne Improvised Explosive Devices courses for SoFi Stadium security staff.  
On Aug. 31, Region 9 Chief Cybersecurity Advisor Joe Oregon held a Cyber tabletop exercise with partners and coordinated with the FBI, U.S. Secret Service, DHS Office of Intelligence and Analysis and NFL Global Security to provide a threat and resilience brief for both cyber and physical concerns in advance of the event.
Over the next few months, Region 9 training and exercise staff will continue to conduct a series of physical and cyber security tabletop exercises to better prepare the city of Inglewood and the downtown Los Angeles area for hosting Super Bowl LVI.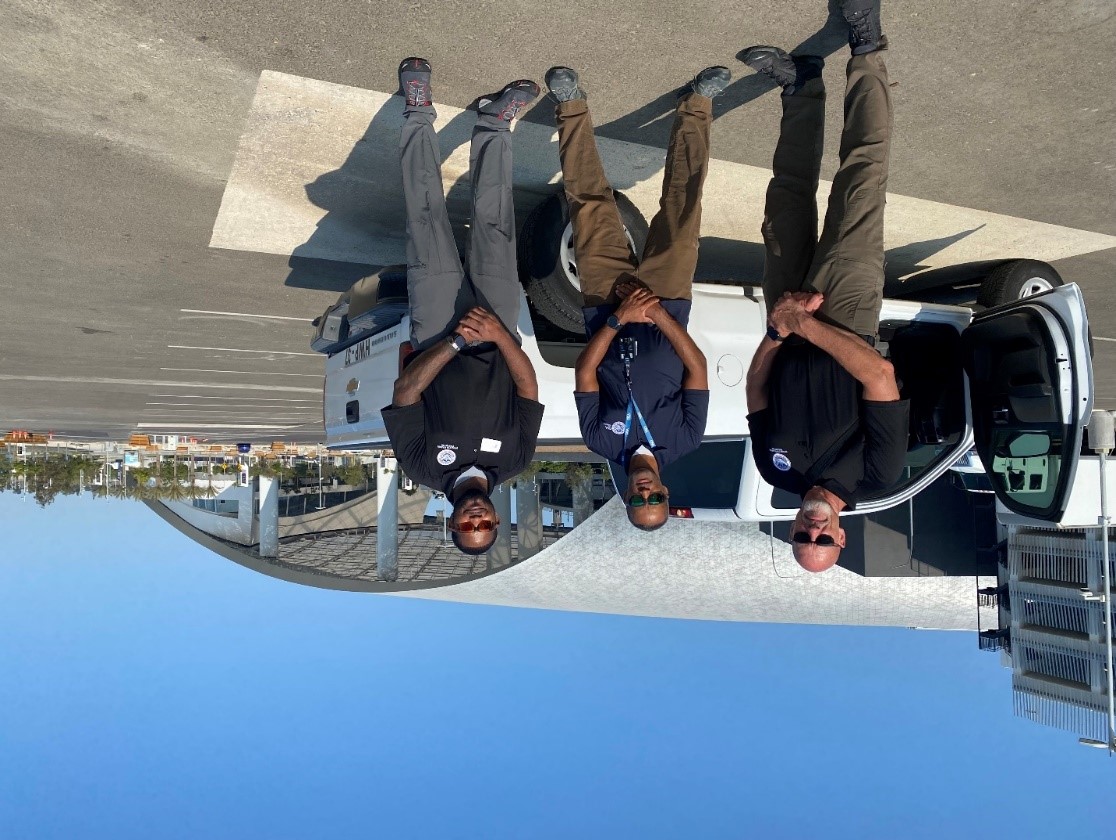 Instructors Rich Knight (left) and Rod Palmer (right) from the Office of Bombing Prevention, along with Region 9 PSA Brian Keith (center), conducted two Vehicle Borne Improvised Explosive Devices trainings on July 13, 2021 for SoFi Stadium security staff.