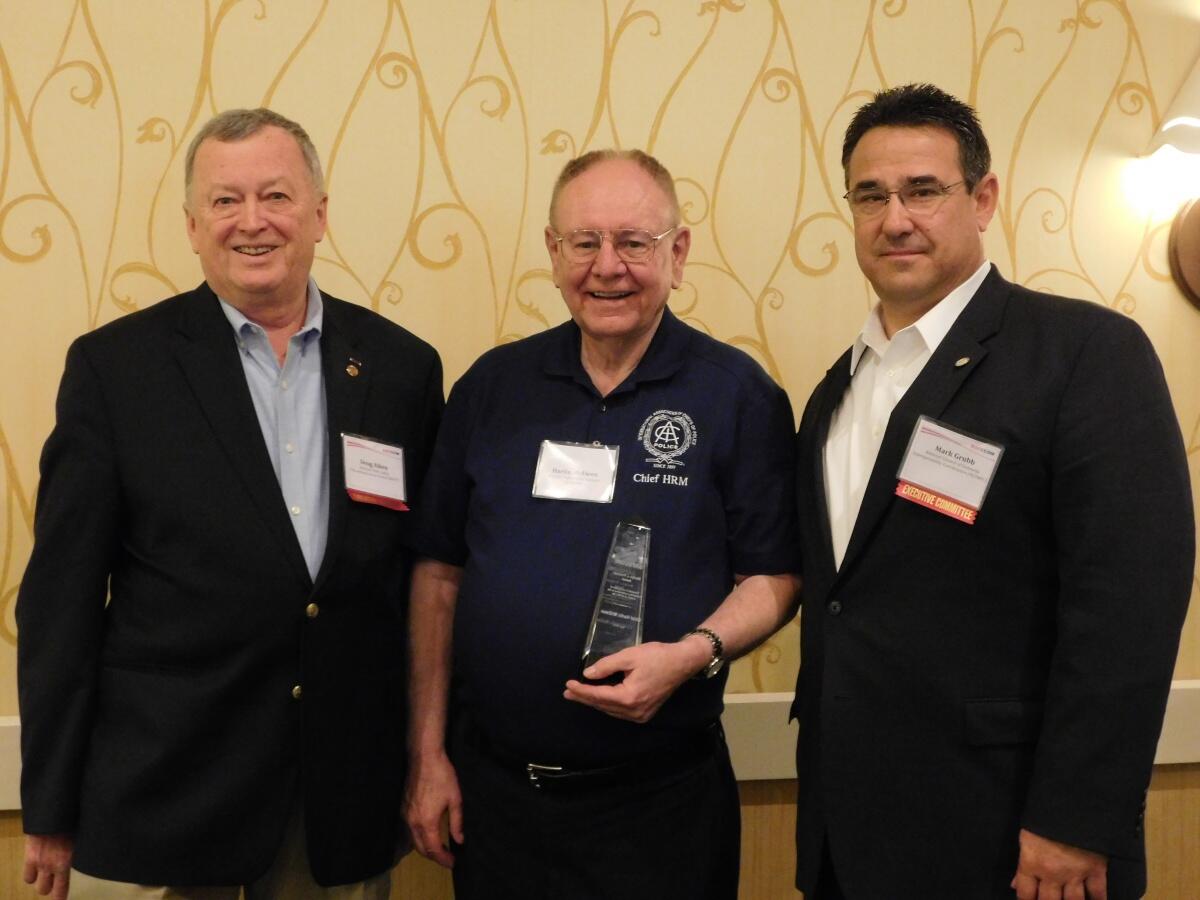 At its biannual in-person meeting in Jacksonville, Florida, SAFECOM recognized Chief Harlin McEwen with the inaugural Marilyn J. Praisner Leadership Award. Chief McEwen was recognized after the day's opening remarks from Department of Homeland Security National Protection and Programs Directorate Under Secretary, Suzanne Spaulding, who thanked SAFECOM members for their dedication to the mission of emergency communications. During the presentation of his award, Chief McEwen received high praise in remarks from SAFECOM Vice Chairs Doug Aiken and Mark Grubb. On Chief McEwen's impact on the community Aiken said, "I am not aware of another person who has contributed so much to public safety communications and selflessly offered so much of his time other than Chief Harlin McEwen." Grubb echoed this sentiment saying that, "Harlin is a true inspiration to many people in public safety especially new public safety professionals. He sets an enormous example on how to get involved and move the issue of public safety communications forward."
The Office of Emergency Communications (OEC) Deputy Director, Chris Essid, also recognized Chief McEwen's five decades of experience in the field in his remarks. Essid highlighted McEwen's advocacy for public safety telecommunications and credited his dedication to this work over the years and his integral role in the founding some of the most significant institutions for public safety. "Without Harlin McEwen we might not have SAFECOM, OEC, or the First Responder Network Authority (FirstNet) since he was a driving force in establishing these organizations," Essid said.
Chief McEwen's impressive career includes serving as a law enforcement officer and administrator. He is the former Chair of the International Association of Chiefs of Police Communications & Technology Committee. He also served as Deputy Assistant Director of the Federal Bureau of Investigation from 1996 – 2000. Chief McEwen is currently the Chair of the FirstNet Public Safety Advisory Committee.
Chief McEwen is the inaugural recipient of the Marilyn J. Praisner Leadership Award—created by SAFECOM in 2015. This award is not given annually but is based on exemplary dedication and service to the organization. Its namesake, Marilyn J. Praisner, was the first SAFECOM Executive Committee Chair and was the Montgomery County Council's representative from District 4 in Maryland. Known for her national leadership on technology and telecommunications issues, Mrs. Praisner represented local government across the country on numerous technology associations, committees, and task forces. She served on National Association of Counties' (NACo) Homeland Security Task Force and was four times chair of its Telecommunications and Technology Steering Committee.