A critical component of emergency communications are 911 centers–to include emergency communication centers (ECC), public safety answering points (PSAP), public safety communication centers (PSCC), emergency operations centers (EOC), and other
public safety command centers.
CISA, in conjunction with the SAFECOM-NCSWIC Next Generation 911 (NG911) Working Group, uses stakeholder feedback from multiple levels of government to identify, document, and develop informational products and refine innovative concepts that will facilitate the transition to NG911. This page provides resources and tools to support 911 system operations, security, and NG911 transition.
911
911 centers play an important role in processing 911 calls from the public and dispatching emergency services, including law enforcement, fire, and emergency medical services. These resources provide information on 911 system operations and technologies.
 
Next Generation 911 Incident-Related Imagery Impacts 101
The NG911 Incident-Related Imagery Impacts 101 provides public safety and emergency communications leadership with considerations for addressing acceptance of incident-related imagery through 911 systems, such as establishing data management policies and procedures, assessing training and educational requirements, supporting staff wellness, and assessing recruitment and retention polices. Public safety stakeholders can use this document to familiarize themselves with emerging technologies in 911 centers and help plan for incident-related imagery consumption.
Transition to NG911
N
G911 systems, which operate on an Internet Protocol (IP) platform, enable interconnection among a wide range of public and private networks, such as wireless networks, the Internet, and regular phone networks. NG911 systems enhance the capabilities of today's 911 networks, allowing compatibility with more types of communication, providing greater situational awareness to dispatchers and emergency responders, and establishing a level of resiliency not previously possible. NG911 will allow 911 centers to accept and process a range of information from responders and the public, including text, images, video, and voice calls. These resources provide information and tools to help 911 stakeholders transition to NG911.
NG911 Self-Assessment Tool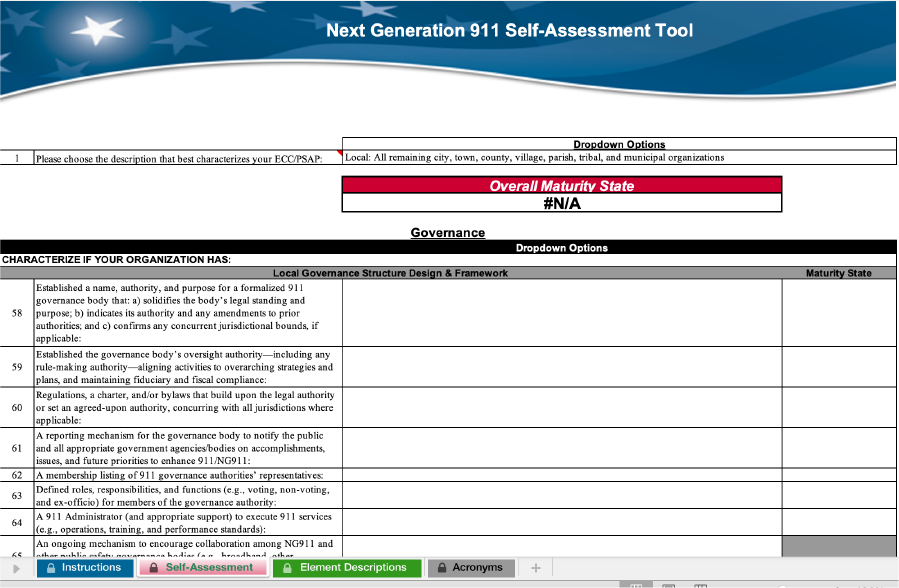 The NG911 Self-Assessment Tool helps emergency communications centers (ECC) and public safety answering points (PSAP) administrators and oversight personnel evaluate a system's NG911 maturity state and understand the next steps necessary to continue NG911 deployment progress. The NG911 Self-Assessment Tool is available online at 911.gov. This easy-to-use checklist establishes a common terminology and identifies key milestones to help 911 call centers understand the multi-year NG911 implementation process. To learn more about the Self-Assessment Tool and other helpful NG911 resources, visit 911.gov. For any questions about the NG911 Self-Assessment Tool, please contact ng911wg@hq.dhs.gov.
Geographic Information System (GIS) Lifecycle Best Practices Guide
The data produced by Geographic Information Systems (GIS) is an essential component of NG911 and improving public safety communications. The public safety community relies on GIS data to accurately relay a caller's location and dispatch emergency responders. GIS data can improve emergency response by providing accurate location information and critical geographic information to improve situational awareness. The GIS Lifecycle Best Practices Guide provides an overview of the GIS lifecycle, best practices for each phase of the lifecycle, and resources for GIS support. Public safety administrators, managers, and officials can use this document to familiarize themselves with GIS lifecycle best practices to help ensure they have implemented essential GIS components for NG911.
California Statewide Next Generation 911 Geographic Information System Use Case
The California Statewide NG911 GIS Use Case summarizes lessons learned from the State of California's implementation of a statewide GIS as part of its transition to NG911. Paired with the GIS Lifecycle Best Practices Guide for NG911, it provides users with helpful tips for navigating the GIS lifecycle, including planning, governance, funding, and security considerations.
911 Cybersecurity
911 centers are often targeted by malicious actors seeking to disrupt 911 operations and their ability to provide live-saving and critical emergency services to the public. These resources provide information on common attack vectors to 911 systems and best practices to mitigate cyber threats, such as ransomware, telephony denial-of-service, and malware attacks.
Cyber Risks to 911: Telephony Denial of Service
This fact sheet familiarizes public safety communications partners with Telephony Denial of Service (TDoS) threats to 911. The document overviews common TDoS attack vectors, highlights real-world TDoS incidents, and suggests best practices to mitigate TDoS impacts.
Cyber Risks to NG911 White Paper
The Cyber Risks to 9-1-1 (NG911) White Paper provides an overview of the cyber risks that will be faced by NG911 systems. It is intended to serve only as an informational tool for system administrators to better understand the full scope and range of potential risks, as well as recommend mitigations to these risks. Developed by CISA in conjunction with the Department of Transportation, the White Paper is an introduction to improving the cybersecurity posture of NG911 systems nationwide.
Protect Your Center from Ransomware Poster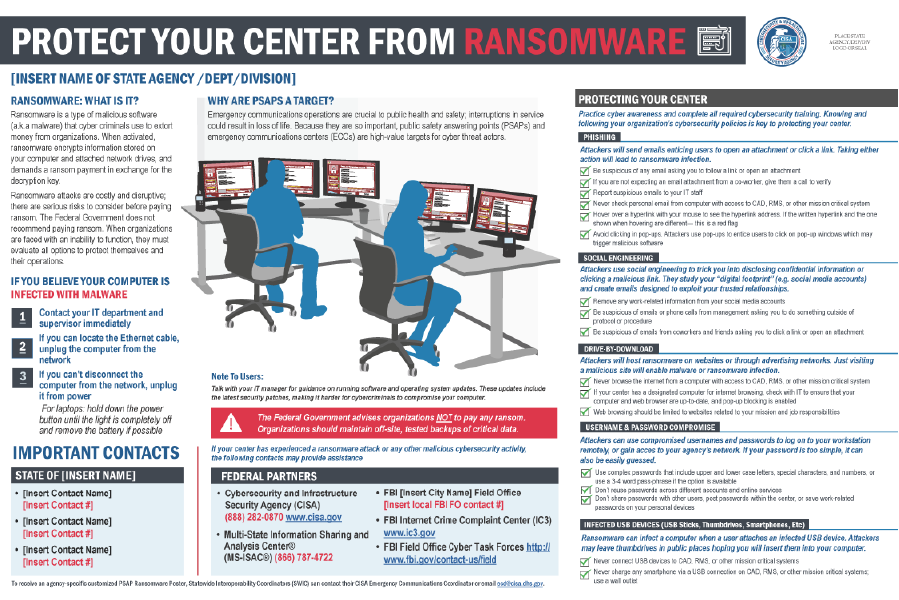 The ransomware poster can be placed in an ECC, PSAP, 911 Call or Dispatch Centers The poster provides information about what ECC staff can do to reduce the risk of ransomware. Although the poster's focus is on ransomware, its recommendations are applicable across a range of cyber threats like phishing, social engineering and password management. 
To request an agency or state-specific poster, please follow the directions on the PSAP Ransomware Fact Sheet.  For more information on ransomware, please visit cisa.gov/ransomware.
Last Updated Date: July 16, 2021