Protect Our World with MFA
Turn on multifactor authentication to protect online accounts.
Stay Safer Online: Enable MFA 
MFA provides us with extra security by confirming our identities when logging in to our accounts, like entering a code texted to a phone or one generated by an authenticator app. MFA increases security—it can make us significantly safer online. Even if our passwords become compromised, unauthorized users will be unable to meet the second step requirement and will not be able to access our accounts.
Make Your Accounts Safer with Multifactor Authentication (MFA) | Audio Description
Follow these Easy Steps
Turn on MFA for each account or app!
1. Go to Settings
It may be called Account Settings, Settings & Privacy or similar.  
2. Look for and turn on MFA 
It may be called two-factor authentication, two-step authentication or similar.
3. Confirm  
Select which MFA method to use from the options provided by each account or app. Examples are:
Receiving a numeric code by text or email
Using an authenticator app: These phone apps generate a new code every 30 seconds. Use this code to complete logging in.
Biometrics: This uses our facial recognition or fingerprints to confirm our identities.
MFA Tip Sheet
Download the Secure Our World MFA Tip Sheet to share with friends and family.
Congratulations!
Now that we've set up MFA, when we log into our accounts, it may challenge us to complete the MFA step that proves our identities. It only takes a moment but makes us much safer from hackers!
Turn on MFA for every account or app that offers it. Enabling MFA will protect things like:
Banking information
Online purchases
Social media
Email
Businesses            
Your identity
PRO TIP Check to see whether your email accounts, banks, healthcare providers, and other important accounts offer MFA and enable it by default. If they don't, ask them why not. It's your information they're putting at risk!
Deandre Didn't Use MFA and Lost Control of His Accounts
Deandre learned many of his friends were having problems with online scammers hacking into their social media accounts or receiving phishing messages through email. He thought it was strange but didn't worry too much about it. Deandre felt like he was probably safe. He didn't have that many followers. Who'd want to hack him?    
But one day, all of that would change. Deandre started his morning off as usual, grabbed a cup of coffee and went to sign into his email. Except, he wasn't able to log in; his email account had been taken over. He then received text messages from family members asking if he was really the one posting weird messages on social media.
Hackers were posing as him online and posting to his social pages. He checked it out and was embarrassed by the fake posts. Deandre soon discovered somebody had hacked into more accounts and changed the passwords. This included his bank account and retail apps. Hackers made unauthorized purchases and transactions.  
Deandre was shocked that in just a quick amount of time, he had lost control of all his important data and finances. He later discovered that since his accounts were linked, hackers gaining access to one entry point, his email, allowed access to other accounts. Deandre wished he had practiced more caution and used MFA on his email account. That could have stopped them from hacking his email, and he could have avoided the whole chain of events. He had to work long hours to recover what was possible and create a new email account. 
Deandre now always uses MFA and is reassured that his account is significantly more secure—he'll be the only one controlling it in the future. 
Other Ways We Can Protect Ourselves Online
Online criminals look for easy targets, like people who don't take basic precautions. If we take the following steps, we won't be as vulnerable to their deceptive tactics. It will be much harder to scam us or steal our information. Let's start now.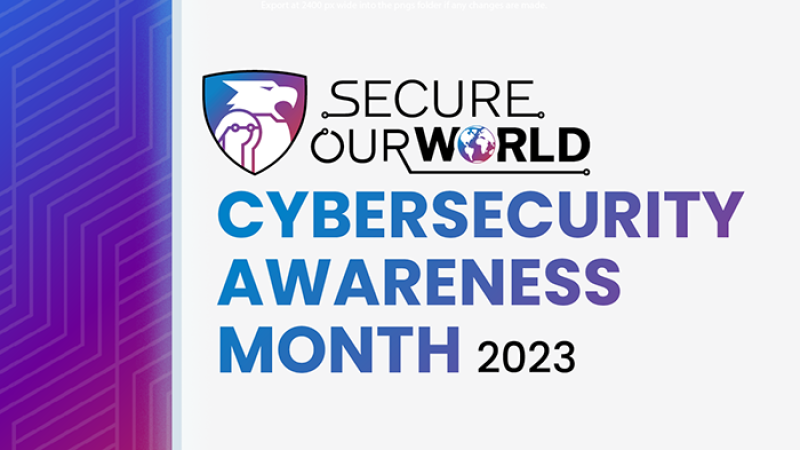 Learn how to get involved and become a Cybersecurity Awareness Month partner!
Learn more about how to implement multifactor authentication. Watch a message from CISA Director Jen Easterly about enabling MFA and learn how to enable it on your accounts.
Learn about phishing-resistant MFA/FIDO and how to use the strongest MFA possible.