Kerry Stewart
Chief Security Officer (CSO)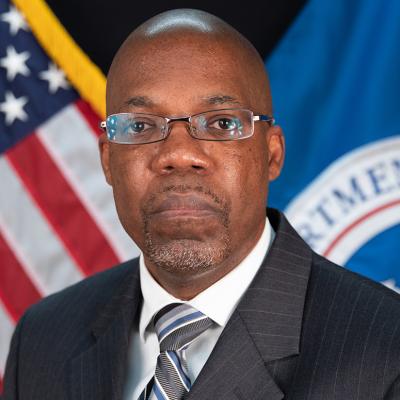 Kerry Stewart serves as the Chief Security Officer (CSO) for the Cybersecurity and Infrastructure Security Agency (CISA). As CSO, he is responsible for overseeing CISA's internal security and threat management programs through a multi-layered approach of integrated security programs, inspections, and investigations.
Stewart is responsible for the strategic direction of the Office of the Chief Security Officer, ensuring a safe and secure work environment, and promoting organizational excellence, integrity, and accountability to stakeholders. He provides executive leadership to the OCSO executive officer and the Associate Chiefs for Security Programs, Personnel Security, Internal Affairs, and Threat Management.  
Prior to this position, he served as the director of security, Office of Intelligence and Counterintelligence, Department of Energy. Previously, he was the security officer-unit chief, Personnel Security Investigation Unit, Federal Bureau of Investigation, as well as the chief security officer, Honolulu Division, Federal Bureau of Investigation. He has also served in other federal positions as regional security manager, Emergency Management and Security Branch, General Services Administration; supervisory security specialist, Office of Security, Counterespionage Division, Department of Commerce; and the deputy director of security, Special Programs Division, Defense Contracts Management Agency.
Stewart is a retired United States Marine Corps gunnery sergeant with 20 years of service. His final active duty assignment was the staff non-commissioned officer in charge, Security Branch, Headquarters and Service Battalion, Marine Corps Base, Quantico, Virginia.
His military and civilian awards and decorations include the Defense Meritorious Service Medal, the Joint Service Achievement Medal, the Navy and Marine Corps Achievement Medal (4th Award), the Department of Energy Exceptional Civilian Service Award, the Defense Contract Management Agency Exceptional Service Award, the Federal Bureau of Investigation Citation for Special Achievement, and the Office of the Secretary of Defense Patriotic Employer Award.
Stewart holds a Bachelor of Science in information systems management from the University of Maryland Global College, a Master of Arts in management from American Military University, and a Master of Business Administration from the University of Phoenix. He also holds the Department of Defense Security Fundamentals Professional Certification, Security Asset Protection Professional Certification, and Security Program Integration Professional Certification.