Public Safety Library App
Public Safety Emergency Communications Library App
The Interoperable Communications Technical Assistance Program (ICTAP) provides these mobile applications to the Public Safety community in order to enhance Emergency Communications Interoperability.
The Cybersecurity and Infrastructure Security Agency (CISA) has developed a new mobile app to support the nation's First Responders called the Public Safety Library APP.  The APP will enable public safety users to access current information electronically using their Apple and Android mobile devices to view the National Interoperability Field Operations Guide (NIFOG) and select state field operations guides (FOGs).
As part of its technical assistance to states, CISA has delivered many individual electronic FOGs (eFOG) mobile apps for users, creating a separate mobile app for each eFOG content area. With the new Public Safety Library mobile APP, users can use a single APP to access any eFOG content area they choose to download.
Easy to Use
The Public Safety Library APP gives users easy access to eNIFOG , eAUXFOG and state eFOGs information, offering a content index with shortcuts to reference sections, tables, figures, or images. Navigation links allow users to jump directly to regional quick references as well as bookmark Favorites to develop their own personalized access to critical information for their region.  The Public Safety Library APP will available for download after April 19, 2023 from the Apple and Google Play App stores by looking for the Public Safety Icon APP or by scanning the QR Code shown below.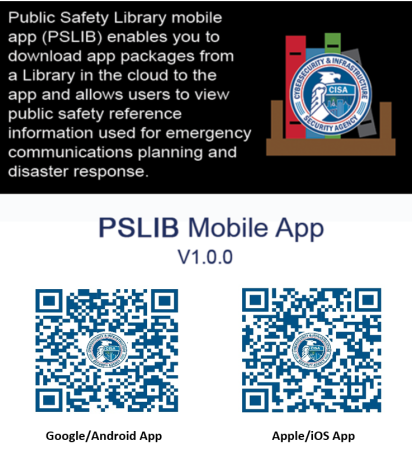 Public Safety Library (PSLIB) App Privacy Policy
The DHS Privacy Policy Statement for Public Safety Library App