Protecting Houses of Worship
For faith-based communities, it is crucial to ensure safety and security while maintaining a welcoming environment.
Overview
CISA is committed to supporting efforts to maintain safe and secure houses of worship and related facilities while sustaining an open and welcoming environment. In partnership with the Department of Homeland Security Center for Faith-Based and Neighborhood Partnerships and the Faith-Based Information Sharing and Analysis Organization, CISA provides resources that assist houses of worship in securing physical and cyber infrastructure.
CISA's Role  
CISA is a first stop for guidance and resources to inform FBO-HOW security-based decisions. Included below are numerous resources, which provide building blocks for effective safety and security programs. The resources include a guide, a self-assessment tool, trainings, exercises, and other materials focused on a wide range of man-made threats (e.g., bombing, active shooter, vehicle ramming, etc.) that could be used against the FBO-HOW community.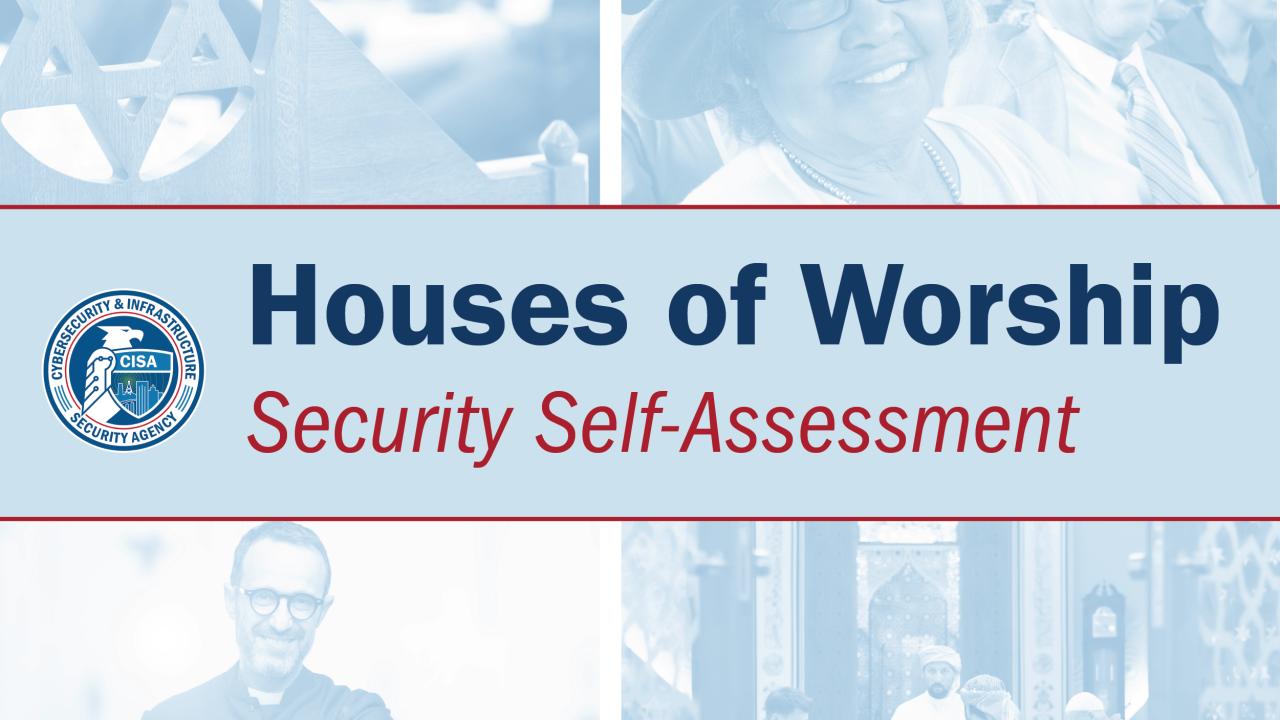 Houses of Worship Security Self-Assessment
This tool is designed to guide personnel at houses of worship through a security-focused self-assessment to understand potential vulnerabilities and identify options for consideration in mitigating those vulnerabilities. 
Learn More
Creating a Safe and Secure Environment
Building a safe and secure environment for faith-based communities is no different than typical security planning. However, there are nuances pertaining to a congregation's desire for openness and access, engagement with their congregants and visitors, and rituals that may be impacted by heightened security. 
There are several factors that must be considered when making security decisions and planning security enhancements. Knowing the factors that influence your facility's overall security risk will provide you with focus areas and shed light on where to begin lowering risk. CISA provides a variety of resources, which, when used effectively, can help you improve your preparedness and the safety and security of your community.
Protecting Houses of Worship Video
Today, houses of worship face a unique set of safety and security challenges that they didn't just a few years ago. This video was developed to inform the faith-based community about options for consideration to mitigate risk to places of worship and related facilities.
Learn More
If you would like more information on upcoming webinars and resources from the DHS Center for Faith-Based and Neighborhood Partnerships, please contact Partnerships@fema.dhs.gov.