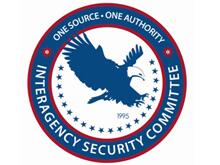 The Interagency Security Committee is a collaborative organization that provides leadership to the nonmilitary federal community supporting physical security programs that are comprehensive and risk based.
Vision
People are safe and secure in federal facilities throughout the country.
Mission
We safeguard U.S. nonmilitary facilities from all hazards by developing state-of-the-art security standards in collaboration with public and private homeland security partners.
Leadership
Leadership for the Interagency Security Committee (ISC) is provided by the chair (the Department's Assistant Director for Infrastructure Security), the Chief, Interagency Security Committee, and eight standing subcommittees:
Steering Subcommittee
Standards Subcommittee
Best Practices Subcommittee
Convergence Subcommittee
Training Subcommittee
Design-Basis Threat Subcommittee
Countermeasures Subcommittee
Compliance Subcommittee
Membership
Membership in the ISC consists of senior level executives from 64 federal agencies and departments. View primary and associate members in the ISC.
Subcommittees
ISC subcommittees identify long- and short-term priorities and oversee strategic initiatives. Current subcommittees include the following:
Steering Subcommittee: Provides input to the chair and/or the program director on priorities, project plans, and the operational impact of proposed initiatives to the security of Federal facilities
Standards Subcommittee: The focal point for coordination of all ISC standards
Best Practices Subcommittee: Evaluates technology solutions, develops a process and guidance on best practices to deliver lessons learned and shared information, and maintains a clearinghouse of information for Federal security programs to full ISC membership.
Convergence Subcommittee: Develops mechanisms to support Federal agencies' integration of information management controls with security programs
Training Subcommittee: Oversees and supports the development and delivery of training of the ISC Standards and Security Specialist Competencies.
Design-Basis Threat Subcommittee: Provides annual updates to the Design-Basis Threat (DBT) report.
Countermeasures Subcommittee: Oversees the development of security criteria, degree of applicability, and associated countermeasures necessary to match the undesirable events as identified in the Design-Basis Threat (DBT) report.
Compliance Subcommittee: Ensure compliance with established standards and oversee the implementation of appropriate security measures in federal facilities.
Working Groups
Working groups produce the ISC's standards and best practices. Working groups are task-based and address a wide range of current and potential risks.
Authorities and Superseded Products
View the authorities and superseded products for the ISC.
Contact Information
Interagency Security Committee
Department of Homeland Security
Washington, D.C. 20528
Attn: Chief, Interagency Security Committee
Email: isc.dhs.gov@hq.dhs.gov