Alaina Clark
Assistant Director for Stakeholder Engagement (SED)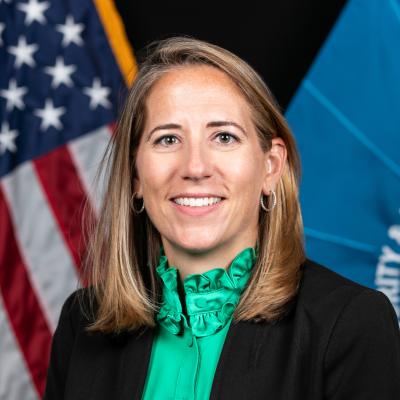 Alaina Clark is the Assistant Director for Stakeholder Engagement at the Cybersecurity and Infrastructure Security Agency (CISA). Working collaboratively across CISA, she oversees the agency's national and international partnerships and stakeholder outreach programs while directing efforts for shared engagement information and coordination that supports CISA's unified mission delivery.
Leveraging the agency's convening authorities, Ms. Clark facilitates the CISA Director's national coordinator role by overseeing multiple sector and cross-sector functions, including that of Sector Risk Management Agency for eight of the nation's 16 critical infrastructure. Ms. Clark also oversees multiple partnership and advisory councils, including those that advise the Director and the President. These mechanisms for public-private partnership ensure that CISA directly engages subject matter experts to collaboratively identify then address high priority issues, often resulting in new products and services that help critical infrastructure stakeholders increase their security and resilience.
Ms. Clark's initial role within CISA was as the Deputy Chief of External Affairs, where she led the agency's public affairs and digital messaging, legislative agenda, and branding—including CISA's social media, web presence and graphic design.
Prior to her work with CISA, Ms. Clark served as the Deputy Assistant Secretary for Intergovernmental Affairs (IGA) for the Department of Homeland Security (DHS), where she directed the operations of IGA's state, local and Tribal teams.
During that time, Ms. Clark led the standup of the Office of Partnership and Engagement (OPE), reporting directly to the Secretary of Homeland Security. The OPE standup consolidated core partnership offices, advisory councils, and national awareness campaigns to gain efficiencies and promote information sharing and coordination. Less than one year after establishing OPE, Ms. Clark became OPE's acting Assistant Secretary—leading the office through a Presidential transition.   
Before joining DHS, Ms. Clark supported the DHS Science and Technology Directorate and the DHS Office of the Under Secretary for Management as an employee of a private sector consulting firm.
Ms. Clark holds a bachelor's degree in international studies from Dickinson College in Carlisle, Pennsylvania, and a master's degree in government with a concentration in homeland security from Johns Hopkins University in Baltimore, Maryland.