Region 4
Alabama, Florida, Georgia, Kentucky, Mississippi, North Carolina, South Carolina, Tennessee
Who We Are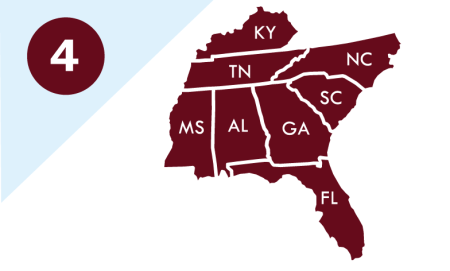 Covering 394,420 square miles and comprised of heavily populated urban areas, mountains, forests, and farmland, Region 4's geography is varied and extreme.
The region contains 17 nuclear power facilities (with applications for nine new sites pending). These facilities supply 29 percent of the nation's electrical power output. The region harbors six nationally critical ports and is home to seven of the country's fastest growing cities: Orlando, Fla.; Nashville, Tenn.; Cape Coral, Fla.; West Palm Beach, Fla.; North Port, Fla.; Lakeland, Fla.; and Raleigh, N.C.
Natural risks impacting the area such as hurricanes, flooding and snow and ice storms all pose significant threats to critical infrastructure and the surrounding communities. Adverse human-caused events, such as cyber and physical security attacks, chemical hazards, and shooting and bombing incidents, also have lasting and dramatic effects. Regardless of the nature or cause of an incident, CISA Region 4 staff is ready to help partners build resilience and readiness to mitigate risk, and to provide response support in the event of an incident.
Region 4 Director Julius Gamble
Regional Director Julius Gamble leads a cadre of security professionals located throughout the region. 
learn more
Discover
Learn more about CISA's vast array of services, tools and guides at the links below.