Region 5
Illinois, Indiana, Michigan, Minnesota, Ohio, Wisconsin
Who We Are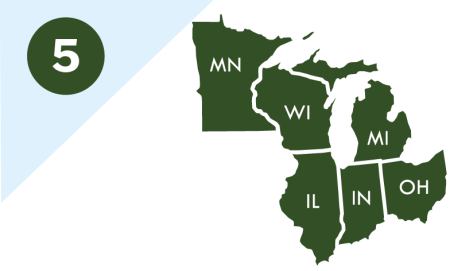 Region 5 is extremely diverse in terms of infrastructure and overall contribution to the nation. Characterized by both its rural and urban centers, the region comprises 16 percent of the nation's population.
Bound by the Ohio and Mississippi Rivers, these rivers are vital for the critical barge traffic that carry agricultural products, coal, and chemicals, and four of the five Great Lakes serve as vital inland shipping routes for iron ore, aggregates, grain, and salt. These lakes and connecting rivers also serve as part of the international border with Canada, with the busiest international rail crossings in the country and nearly one third of all crude oil imports enter the country through Region 5. A large agricultural area throughout the region grows corn, soybean, and fruit, and raises livestock on dairy, swine, and turkey farms. 
As part of America's vital automotive and manufacturing centers, these robust supply chains and manufacturing plants making everything from tin cans to armored vehicles. Driven by the auto industry, 25 percent of all U.S. – Canada trade passes through the Detroit-Windsor corridor. Major banking and financial centers are located here, and several U.S. Fortune 500 companies call Region 5 home. 
Region 5 Director Alex Joves
Regional Director Alex Joves leads a team of security professionals who enable the region to better understand and manage cyber and physical risk to our critical infrastructure.  
learn more
Discover
Learn more about CISA's vast array of services, tools and guides at the links below.