Region 8
Colorado, Montana, North Dakota, South Dakota, Utah, Wyoming
Who We Are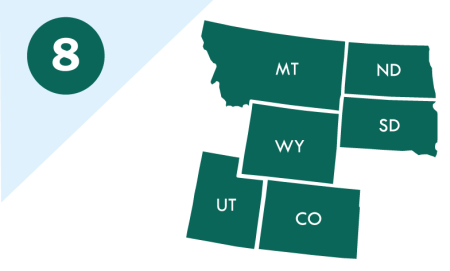 Serving just over 11 million people and covering 573,259 square miles of mountains, rivers, high deserts, plains, farmland, urban areas, unique geologic features and one of the largest coal reserves in the world, Region 8 is a complicated and ever-changing part of the country. Drought and wildfire in summer and fall, flash floods following extreme rain and hail events in spring, plus snow and ice storms in winter all pose significant threats to critical infrastructure and the surrounding communities. Adverse human-caused events, such as cyber and physical security attacks and chemical hazards also have dramatic effects. Regardless of the incident, CISA Region 8 staff is ready to help partners build resilience and readiness for mitigating risk and provide training and program exercises to support preventative and proactive planning.
Region 8 Director Shawn Graff
Regional Director Shawn Graff leads a team of security professionals located throughout all six states. 
Learn more
Discover
Learn more about CISA's vast array of services, tools and guides at the links below. 
Region 8 personnel provide risk and risk mitigation advice, outreach, assessments and inspections, trainings, support and more to our partners. 
Learn more about the range of resources available to support a more robust cyber resilience. 
Explore the region's cybersecurity, physical infrastructure security, chemical security and emergency communications services.
We've been saying it all year: no one is too small or too remote. Cybersecurity is for everybody. That's why this year we in Region 8 were excited to kick off Cybersecurity Awareness Month a little early. 
Learn more about the resources and practices created specifically for the six states of Region 8. 
Contacts