Region 10
Alaska, Idaho, Oregon, Washington
Who We Are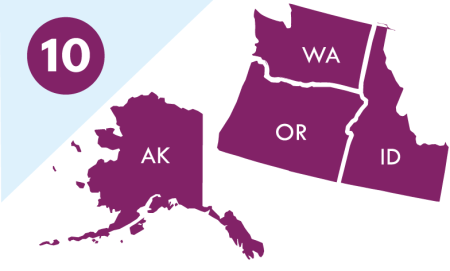 Covering 918,630 square miles and spanning four U.S. States and 271 Tribal Nations, Region 10 is a diverse geographic area. Through a regional office strategically located in Seattle, Wash., regional personnel manage mission execution through steady state and incident operations, critical infrastructure analysis, and strategic outreach to critical infrastructure partners. Protective Security Advisors (PSAs), Chemical Security Inspectors (CSIs), Cyber Security Advisors (CSAs), Emergency Communications Division Coordinators, and visiting CISA staff all coordinate their critical infrastructure protection missions through the regional offices, and collaborate on regional critical infrastructure efforts, as needed. Regional personnel coordinate training events and exercises for stakeholders; participate in external planning with state, local, tribal, territorial, and private sector partners; and provide advice and expertise to stakeholders on infrastructure protection, data tools and information sharing platforms, critical infrastructure sector specialties, and resilience and recovery.
Region 10 Director Patrick J. Massey
Regional Director Patrick J. Massey leads a team of security professionals located throughout the region to better understand and manage cyber and physical risk to our critical infrastructure.  
Learn more
Discover
Learn more about CISA's vast array of services, tools and guides at the links below.