Region 9
Arizona, California, Hawaii, Nevada, Guam, American Samoa, Commonwealth of the Northern Mariana Islands
Who We Are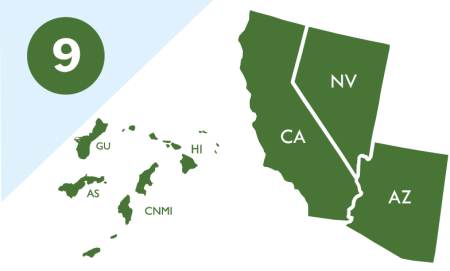 Covering 386,056 square miles and comprised of islands, mountains, deserts, forests, and urban areas, Region 9's geography is varied and extreme. Natural risks impacting the area are equally as diverse. Earthquakes, drought and wildfires in California; volcano eruptions, hurricanes and tsunami in Hawaii and the Pacific Islands; dust storms and tornadoes in Arizona; and snow and ice storms in Nevada all pose significant threats to critical infrastructure and the surrounding communities. Adverse human-caused events, such as cyber and physical security attacks, chemical hazards, and shooting and bombing incidents, also have lasting and dramatic effects. Regardless of the nature or cause of an incident, CISA Region 9 staff is ready to help partners build resilience and readiness to mitigate risk, and to provide response support in the event of an incident.
Region 9 Director David Rosado
Regional Director David Rosado leads a cadre of security professionals located throughout the region who manage mission execution through steady state and incident response support operations.
learn more
Discover
Learn more about CISA's vast array of services, tools and guides at the links below.