About Our Region
Covering 386,056 square miles and comprised of islands, mountains, deserts, forests, and urban areas, Region 9's geography is varied and extreme. Natural risks impacting the area are equally as diverse. Earthquakes, drought and wildfires in California; volcano eruptions, hurricanes and tsunami in Hawaii and the Pacific Islands; dust storms and tornadoes in Arizona; and snow and ice storms in Nevada all pose significant threats to critical infrastructure and the surrounding communities. Adverse human-caused events, such as cyber and physical security attacks, chemical hazards, and shooting and bombing incidents, also have lasting and dramatic effects. Regardless of the nature or cause of an incident, CISA Region 9 staff is ready to help partners build resilience and readiness to mitigate risk, and to provide response support in the event of an incident.
Region 9 Fact Sheet – Learn about us and the services we provide.
Region 9 in Action
Lights, Camera, Action! Region 9 Supports 93rd Academy Awards Ceremony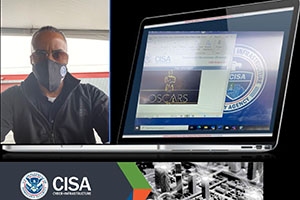 (April 25, 2021)  While the stars came out to honor 2020's best in the movie industry at the 93rd Academy Awards ceremony on April 25, 2021 in Los Angeles, CISA Protective Security Advisor (PSA) Brian Keith, the Los Angeles Police Department and other local partners worked behind the scenes to keep attendees safe. Prior to the evening's festivities at Union Station, Keith assisted Federal, State, and local authorities to identify, assess, and monitor risk to critical infrastructure adjacent to the venue. During the ceremony, Keith and his partners kept a watchful eye on activity around the event site from a nearby command post.
Region 9 Gears Up for Super Bowl LVI in 2022
(Sept. 1, 2021)  Super Bowl LVI may be five months away, but CISA Region 9's staff is already gearing up for game day. CISA's Protective and Cyber Security Advisors, and Emergency Communication Coordinators play an important role in supporting major, high-profile events. On Feb. 13, 2022, they will support local security efforts for Super Bowl LVI—a Special Event Assessment Rating (SEAR) Level 1 category event—being held at SoFi Stadium in Inglewood, California. Completed in July 2020, SoFi Stadium is the NFL's newest, state-of-the-art facility, which will be home to both the Los Angeles Rams and Los Angeles Chargers football teams.  The entertainment complex includes the 70,000-seat stadium (expandable up to 100,240) and includes YouTube Theater, an adjacent indoor music and theater venue.Super Bowl LVI may be five months away, but CISA Region 9's staff is already gearing up for game day. [Read more...]
Region 9 Strengthens Ties with Partners in Hawaii
(Sept. 7, 2021)  CISA Region 9 leadership and staff spread some aloha recently when they traveled to Hawaii to foster key relationships with their Pacific Island partners.
Regional Director David Rosado and Deputy Regional Director Frank Calvillo met with key stakeholders and partners from U.S. Indo-Pacific Command, U.S. Coast Guard, FBI, Defense Information Systems Agency, National Security Agency, Hawaii Office of Homeland Security, and the Hawaii Energy Office.  The central theme of all the meetings was the importance of collaboration and information sharing. [Read more...]
Region 9 Helps Asian Small Business Owners Become "Cyber Smart"
(Oct. 2, 2021)  CISA Region 9 team members shared tips and information on how to be cyber smart with members of the Asian Food Trade Association, many of whom are small business owners, in Monterey Park, California. The presentation was well-received as members of the Asian community have reported a recent increase in both physical and cyber crimes, including voter intimidation, ransomware attacks, and burglaries in the workplace. The tools and resources shared by our Region 9's Cybersecurity and Protective Security Advisors were particularly helpful to the association in helping members become more resilient to these crimes. 
Region 9 Shares Tips with Nevada Law Enforcement
(Oct. 21, 2021) CISA Region 9 joined U.S. Secret Service and the Nevada Attorney General's Office at the 2021 Law Enforcement Summit in Reno, Nevada to share ways Nevada public safety and law enforcement agencies can ensure the security of their communities. CISA gave tips on how to defend against ransomware attacks. More than 100 senior law enforcement officials from around the state attended.
Region 9 Supports Consumer Electronics Show
(Jan. 7, 2022)  While tech gearheads learned about the latest innovation in autonomous vehicle, augmented reality and gaming technology, CISA Region 9's protective security advisors (PSAs) worked behind the scenes to ensure a safe and enjoyable experience for attendees of this year's Consumer Electronics Show (CES) in Las Vegas, Nevada, Jan. 5-7, 2022.
The tech industry's premier showcase, CES draws tens of thousands of attendees from around the world each year. The three-day event features 11 official venues and spans more than 1.6 million net square feet of exhibit space. [Read more...]
Region 9 Brings Winning Team to Super Bowl LVI
(Feb, 13, 2022) No matter which side of the scrimmage line they were on, all fans enjoyed a winning Super Bowl LVI game day on Feb. 13. That was in no small part thanks to the role CISA Region 9 staff played in securing one of the most watched sporting events of the year.
The Los Angeles Rams and Cincinnati Bengals played a tight, edge-of-your seat game at SoFi Stadium in Inglewood, California with the Rams earning the championship title by beating the Bengals, 23-20. While all eyes – including 112 million spectators viewing from home - were on the gridiron, a dozen Region 9 protective security advisors, cybersecurity advisors, emergency communications coordinators and a chemical security supervisor vigilantly monitored potential danger and risks to critical infrastructure in and around the stadium from five command posts. [Read more...]